#DigiTimeInGhana: Newborns to get Ghana Card numbers - Bawumia
Vice President Mahamudu Bawumia has announced that effective 2022, every newborn in Ghana will get a Ghana Card number shortly after birth.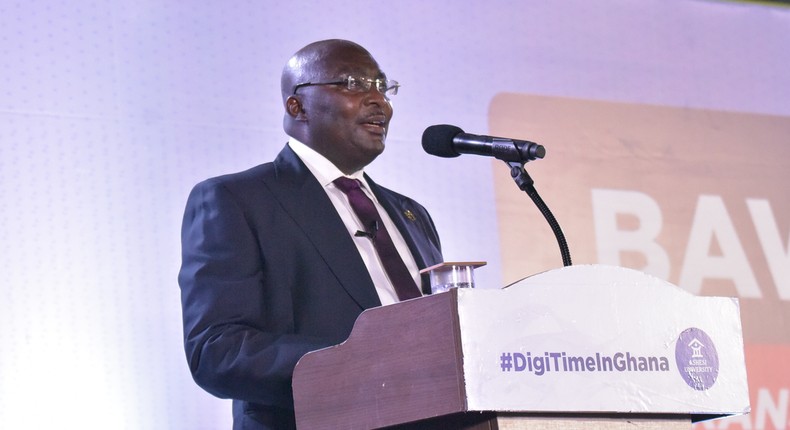 He made the revelation during a public lecture at Ashesi University on Tuesday, November 2, 2021.
Dr Bawumia said the actual card will be issued when the child is grown and the biometrics are fully formed (after age 6).
Shedding more light on the digital strides chalked by the Akufo-Addo government since it assumed office, the Vice President also opined that the transformation at the Birth and Deaths Registry was welcome news.
He added that the reforms at the Births and Deaths Registry is to make it more in tune with the times and provide better protected information on the citizens and residents of Ghana.
"Easily one of the most depressing visits I have paid to a government office during my time as Vice President was to the Births and Deaths Registry headquarters. There clearly was insufficient investment in the institution. It was messy and it was sad. It turned out that the Births and Deaths Registry had three separate databases as registers for births and deaths and these databases were in silos. It is not surprising therefore that corruption and fake birth certificates thrived in this environment," he noted.
"Thankfully, the process of digitization of the records is almost complete and the three databases have been cleaned up and integrated. Furthermore, we are integrating the births and deaths register with the databases of Ghana Health Service, National Identification Authority, Ghana Statistical Service, Immigration and the Police so that the record of births and deaths should be consistent across all these databases."
JOIN OUR PULSE COMMUNITY!
Recommended articles
Check out the champions of the NSMQ from 1994 to 2021
Citi TV gives NSMQ 2021 star Francisca Lamini GH¢5,000
I will not allow the government to frustrate parliament - Bagbin
2022 budget: Asiedu Nketia was too powerful for NPP MPs - Pelpuo
2022 'Agyenkwa' budget will take Ghana on the path of job creation – Koduah Frimpong
Police officer arrested for sexually harassing woman in a car
Sammy Gyamfi congratulates Parliament for rejecting 2022 'killer' budget
Weed is more important than cocoa - Rastaman tells government
Photos: Deputy Energy Minister and wife celebrate 15 years of marriage