EC boss Jean Mensa is incompetent - NDC National Organiser
The National Organiser of the National Democratic Congress, Joshua Akamba has taken Chairperson of the Electoral Commission (EC), Jean Mensa to the cleaners over EC's plan to conduct a new voters register.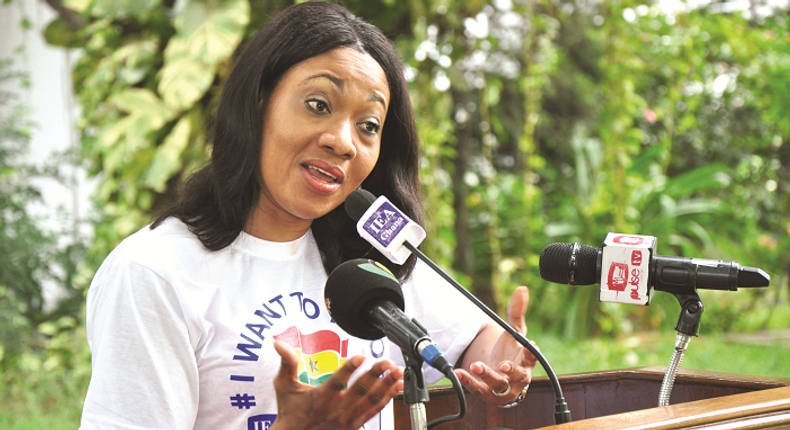 He has described the EC boss as "incompetent" who doesn't understand how elections are conducted in the country.
Joshua Akamba's comments come at the back of the EC's push for a new voters roll.
The EC in March 2019 announced it will compile a new voters' register for the 2020 elections.
Ahead of that, a limited registration of new voters prior to the District Level Elections and a Referendum will take place in all district offices of the Commission across the country in May.
The EC argues that the plan to organise the registration at the district level falls in line with measures to upgrade its Information Technology (IT) infrastructure.
Jean Mensa said her outfit would proceed with the registration exercise at its District Offices despite public opposition to the plan.
Though the Commission has said it will try to facilitate the process in disadvantaged areas, the NDC maintained that many potential voters could be disenfranchised.
The NDC Organiser said the party is against the plan of the EC.
Speaking on Kumasi-based Ultimate FM, Akamba said "it is just to tell you how incompetent she [Jean Mensa] is and how she doesn't understand how our elections work in this country."
He also questioned the viability of such an action by the EC and asked, "why would we have to spend this amount of money to say that let's go convey the people and how many people do you think will leave their homes and agree to come in a bus and has it even happened in this country before?"
Get our Top Stories delivered to your inbox
Recommended articles
The so-called fight against galamsey by the Akufo-Addo/Bawumia government is a scam – NDC
The Ghana Live story: Fastest growing media house celebrates 3rd anniversary
5 reasons why this year's Christmas will be dry in Ghana
I can't accuse Wontumi of galamsey because I don't have any evidence - Ogyeahohoo Yaw Gyebi II
Man who abused 3-year-old child mercilessly in viral video arrested
Dam spillage: Flooding in Weija is a warning to encroachers on waterways — GWCL
You're giving us headache; what's stopping you from resigning? -Kpebu asks Akufo-Addo
Akufo-Addo must resign; he's shown incompetence on galamsey - Martin Kpebu
Security man arrested for resigning after stealing money from church's offering vault