Nana Addo must respect the law — Domelevo speaks on Supreme Court's forced leave ruling
The former Auditor General Daniel Yao Domelevo has spoken after the Supreme Court declared unconstitutional President Nana Addo Dankwa Akufo-Addo's directive for him to proceed on leave.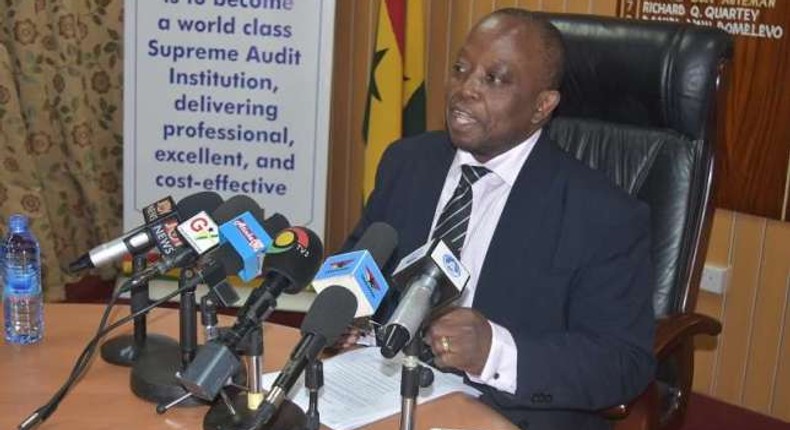 The apex court described null and void his forced leave orchestrated by the Presidency.
In a unanimous decision on Wednesday, May 31, 2023, a seven–member panel of the court further held that the President acted unconstitutionally when he appointed an acting Auditor General when Domelevo was still in office.
The court's decision was however declaratory and did not issue any consequential orders since Domelevo had retired from office.
The seven-member panel was presided over by Justice Nene Amegatcher with Justices Prof Ashie Kotey, Mariama Owusu, Lovelace Johnson, Gertrude Torkornoo, Prof Henrietta Mensah Bonsu, and Emmanuel Kulendi.
Domelevo reacting to the ruling slammed President Nana Addo Dankwa Akufo-Addo for disrespecting the law.
He said he was disappointed that the president, who prides himself as a human rights activist, would breach the constitution with impunity.
In an interview on Citi TV, he said "Justice delayed is justice denied. The justices of the Supreme Court know better… From my point of view, it's better late than never. So from today going, it will not be repeated on any constitutional body or any Auditor General, that is my happiness. I'm equally sad that the highest office of the land, the presidency, is at the forefront of not respecting the constitution of the country, I find it a bit disturbing. Even when I drew their attention, they told me I don't appreciate the law. I am hoping that they will write to the Supreme Court and tell them that they have to go back for law classes since they have upheld the position that I was pushing forward. I think that the ruling was a very good one."
Domelevo added: "I don't have anything to say to him [Akufo-Addo], except to tell him that being a human rights lawyer, he should try and respect the laws of the country. The president should be the first person to respect the laws of the country so that private enterprises and individuals can also respect the rights of the citizenry. If the supreme law of the citizenry is violated, then it will be difficult for others to do the same. I will urge the president to respect the laws of the country instead of violating them."
He said he's sad the presidency is at the forefront of doing unconstitutional things in the country.
Recommended articles
Campaign team of Dr.Bawumia attempted to buy me off as running mate - Ken Agyapong
122,275 personnel for 2023/2024 deployed for service -NSS
20 perish in Peki car crash
#OccupyBoG: Demonstration scheduled for Tuesday, court rejects police request
Tensions flare as Ghanaians in London stage dueling protests over bad governance
Kufuor raises concerns over factionalism within NPP
Jean Mensa, Bossman Asare pose biggest threat to Ghana's democracy – Sam George
Election 2024: Reject Alan's empty political tactics — NDC's Afaglo
Health Ministry summons management of Korle-Bu over GH¢765 cost of dialysis