New Media: Today's world belongs to content creators and influencers
The rise of content creators and influencers has transformed the way brands reach their audiences. In Ghana, this trend has been growing in popularity. In this article, I explore the power of content creators and influencers and their impact on new media. I'd also discuss the next wave of content creation, powered by AI.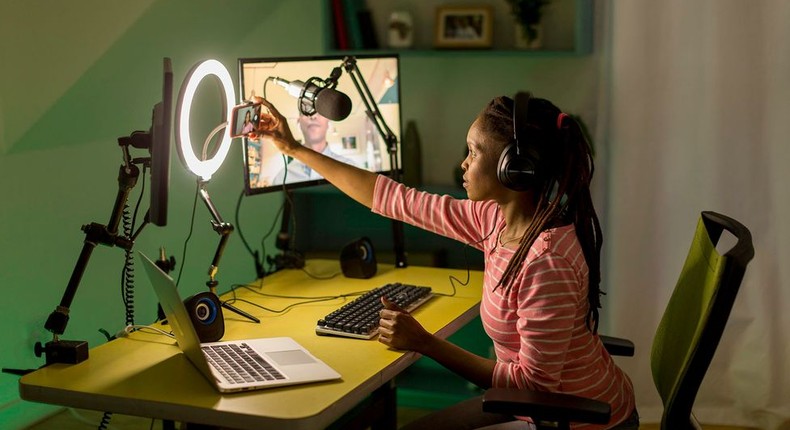 The power of content creators and influencers
Brands are increasingly using content creators and influencers to achieve their brand objectives. This approach has been particularly effective more recently, mainly because of the Year-On-Year growth of internet and social media users, and increasingly where people are more likely to be influenced by their peers.
In Ghana, for example, influencers have become a powerful force in the beauty, fashion, and lifestyle industries. They have built large followings on social media platforms like Instagram, TikTok, and YouTube, and have used their influence to promote products and services.
The popularity and acceptance of content creators are evident in how they have become very attractive even to traditional media recruiters. content creators and Influencers are now preferred in finding the next TV show or radio show host - because there is the belief that by having them as hosts, they would automatically come along with their followers on social media.
In typical examples, I observed how content creator Kwame Oboadie's increase in popularity on social media through his humorous content, rants, and skits coincided with his move to Multimedia - Adom FM. We saw how Media General snapped up Felicia Osei for Onua FM watching her consistently go viral for her short videos on IG and TikTok. Mx24 strategically gave Kwadwo Sheldon a show in their first year of operation - which drew a lot of Kwadwo Sheldon's audience to the brand, which was great for audience acquisition and a hack for the station to build popularity among their core youthful audience. He later got replaced by another content creator, Wesley Kesse, who's equally popular among young Ghanaians. Little did it surprise me to see Kwadwo Sheldon carry his audience to Kingdom FM to host a segment with Fiifi Pratt.
Pulse Ghana
It'd also intrigue you to discover Afronita's leg work film – literally, her first big screen production did an unprecedented 4% audience share on Akwaaba Magic. That just shows how much power and influence content creators wield in today's media consumption.
Touching on the infamous comments by Asantewaa the TikToker - when she made the very audacious assertion that artistes can't make hit songs without TikTokers. Now, although she may have oversimplified the message given the context of music and everything that contributes to making a hit song, generally speaking, the import of her message remains true. There's no music executive today who would deny the impact of content creators on streaming numbers or chart topping songs. Content creators will more and more define what is hot, trendy, cool and popular on digital media. It's inevitable - new media belongs to them.
Pulse Ghana
One of the key advantages of working with content creators and influencers is the ability to reach a highly targeted audience. Unlike traditional media, which is often aimed at a broad demographic, content creators and influencers have built niche audiences based on their interests and personalities. This means that brands can reach their target audience more effectively, and with greater impact.
Since before the pandemic, multiple surveys and reports (see Influencer Marketing Hub report) have said, 63% of marketers plan to increase their influencer marketing budgets. There is also now an almost consensus, among marketers, that the return on investment (ROI) from influencer marketing is comparable to or better than other marketing channels. These statistics demonstrate the effectiveness of content creators and influencers in achieving brand objectives.
Brands started paying attention first, followed through with increased marketing spend on influencer marketing. The public caught on later, and that became apparent when content creators started to disclose how much they earned from content creation. Jessica OS's video on YouTube "How much YouTube paid me for 1 million views'' has close to half a million views - she disclosed at the time of recording she had raked in nearly $6k for gaining 1 million views on one video. Kwadwo Sheldon, another popular YouTuber, recently said in a BBC documentary how much he earns from YouTube. The Kwadwo Sheldon documentary on BBC sparked conversation around his average of $10k earnings a month on YouTube.
African parents, however, are yet to fully board the creator economy where they accept and wholeheartedly support their wards pursuing a full-time career in content creation like they do careers in Engineering and Medicine. Baby steps, we'll get there.
Conclusion
In conclusion, content creation has had a significant impact on Ghana's media landscape in recent years. The rise of social media and other digital platforms has allowed individuals and organizations to create and distribute content in new and innovative ways, bypassing traditional media gatekeepers and reaching audiences directly.
Content creation has also played a key role in promoting Ghana's culture and heritage, with creators using digital platforms to showcase Ghanaian music, art, food, and fashion to a global audience. This has helped to promote Ghana's image as a vibrant and culturally rich country, while also providing new opportunities for Ghanaian creatives to reach a wider audience and build their own personal brands. There's a TikTok video by @thatguy_cian asking random people to name a country (mind you, he did not say African country, just country) beginning with the letter G - and an overwhelming majority said GHANA. Ghana surely didn't buy a flight ticket to Europe, it rode on the coattails of content creators and new media.
Made in Ghana grab two awards at Pulse Influencer Awards 2021 Pulse Ghana
Nonetheless, content creation in Ghana is not without its challenges. The lack of reliable internet connectivity and the high cost of data can make it difficult for creators to produce and distribute content, particularly in rural areas. Additionally, the proliferation of fake news and misinformation on digital platforms is a growing concern, highlighting the need for greater media literacy and responsible content creation.
As Ghana's digital landscape continues to evolve and grow rapidly, I have no doubt that content creation will play an even more important role in shaping the country's media and cultural identity.
Director of Sales and Strategy, Pulse
Recommended articles
Agyinasare vs Nogokpo: Van Calebs calls for peace
NPP elects Charles Opoku as parliamentary candidate for Assin North by-election
Some judges go to Supreme Court to secure retirement plans because SSNIT doesn't pay – Oliver
Gertrude Torkornoo: Parliament approves her nomination as Chief Justice
Ibrahim Mahama donates 500 cement bags to Presec-Legon 1998 year group
It's a fact that Nogokpo remains spiritual gateway to Ghana – Fiator Agbodzalu tells critics
Jobless man jailed 6 years for stealing lady's handbag loaded with expensive phones and 16k
186 students affected after fire outbreak at Bibiani College of Health
Ayawaso West Wuogon NDC Chairman's suspension revoked