<scriptid="mct-script"src="https://app.mycountrytalks.org/embed.js"data-iframe-src="https://app.mycountrytalks.org/talks/9b3c8cc1-8a05-4fa0-bcc2-edef9d8b28d1/join?starting_question=1153"async></script>
Ghana's Parliament passes RTI Bill; awaits presidential assent
Ghana's Parliament has passed and approved the Information Bill (RTI) into law.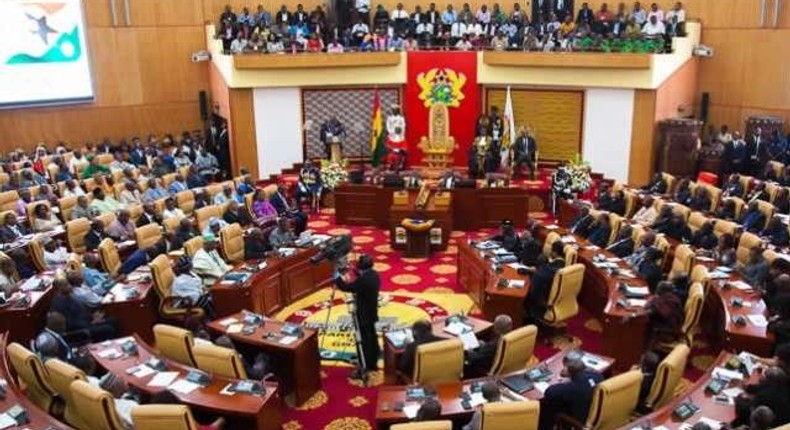 This happened after the third reading of the Bill on Tuesday (March 26, 2019). 
President Akufo-Addo must now give it the presidential assent for the Bill to be fully recognized as law.
The RTI Bill had been in and out of parliament for almost two decades. Civil Society and the media have been very instrumental in the passing of the Bill into law.
After it receives the presidential assent, the RTI will provide for the operationalization of the constitutional right to information held by the public and some private institutions, subject to exemptions that are necessary and consistent with the protection of public interest in a democratic society.
It will also ensure that Ghana encourages a culture of transparency and accountability in public affairs.
It was one of the promises of the main campaign of the governing New Patriotic Party (NPP) during the 2016 election. 
JOIN OUR PULSE COMMUNITY!
Recommended articles
See the ambitious Sh1.4 trillion ($10 billion) project the president of Kenya is involved in
Akufo-Addo to address nation tonight on Covid-19, IMF deal
Polytechnic student commits suicide after losing his and roommate's fees to betting
Tanzania to grant special status to diaspora inhabitants by the end of 2023
I started in 2007 but the money finished; Agya Koo speaks on viral Kumasi mansion (VIDEO)
E/R: Vehicle plunges into river, killing three
I had to lie about my roots just to secure jobs – Dancegod Lloyd
7 body parts you must clean every day to avoid body odour
Agya Koo's Kumasi mansion sets social media ablaze (VIDEO)