The numbers behind China's money spinning companies in Africa
China is fast displacing United States of America as the main economic partner of Africa.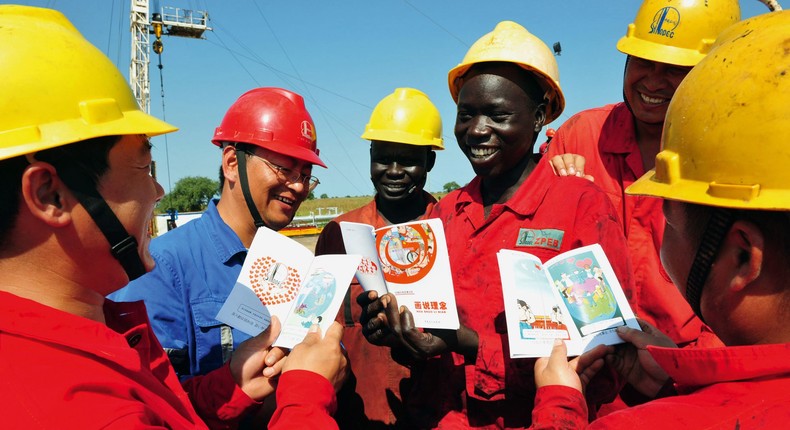 Chinas growing commercial interests in Africa have been subject of major symposia and studies in recent time.
25% of these businesses broke-even in their first year while another 50% had three or fewer years to recoup their initial invested capital.
The report also identified that partnership between China and Africa is in four levels.
The country has robust partnership level with South Africa and Ethiopia, while Nigeria, Kenya and Tanzania are Solid Partners.  Angola and Zambia have Unbalanced partnership status, and Cote d'Ivoire is the only nascent partner on the continent.
The report stated that Nigeria has the highest number of Chinese companies (920) operating in the country,followed by Zambia (861) and Tanzania (825).
Boldness and swiftness are noted as two main attributes that accounts for success of Chinese entrepreneurs in Africa.
Among Chinese companies that have transformed into big multinationals based on an  Africa-focus are those listed below.
Tecno: A Mobile phone company tailored for Africa market
Tecno is of the most popular smartphone brand in Africa. It is owned by Transsion Holdings based in China.
According to McKinsey, Tecno has a high market share of mobile and smartphone markets in Africa. Its market share in some East African countries is as high as 40%, while Nigeria is its biggest market.
Tecno's devices are generally affordable and features are to suit local need of Africans .
StarTimes: Fostering digital  TV in Africa
StarTimes is one of the leading pay-television service providers in Africa. It has about 10 million subscribers with subsidiaries in about 43 African countries.
StarTimes also provides movies from Hollywood, Bollywood and other international movies in some local languages.
Huawei: Facilitating technology transfer to Africa
Huawei is another Chinese company that has made huge profits on the continent as the go to company for telecoms hardware.
Also, Huawei's open application program interface (API) is currently the backbone of most electronic payment processing in Africa, which is also a major source of revenue to the tech company.
According to the McKinsey's research, Chinese companies are leading in technology transfer in Africa. Over 50% of new technology products or services are stated to be from Chinese origin.
FAW: On a quest to meet Africa's automobile need
FAW Group Corporation is a Chinese state-owned automobile manufacturing company.
The $50 million assembly plant in South Africa assembles about 5,000 vehicles annually.
In Nigeria, the company also signed a major agreement with Perfection Motors in 2013, towards meeting the trucking need of the country.
JOIN OUR PULSE COMMUNITY!
Recommended articles
Twerking Wendy Shay threatens to snatch someone's man with her slim waist in 'wild' video
Doctor and nurse suspended for having sex, moaning and disturbing patients who're in pain
Man walks boldly to police, confesses to killing wife and four kids: "Detain me for 6 months"
Women, this is why you should learn to initiate sex more in your relationship
4 side effects of being a virgin for too long, according to research
How important is sex for a man?
'It hurts' - disappointed Rocky Dawuni responds to Stonebwoy's shade fueled by bloggers
Police save little boy who hid inside aeroplane's engine to travel abroad (video)
Bongo Ideas attracts cyberbullying backlash again over comment on Gary Al-Smith's suit