Wearing masks made mandatory in Lagos
The authorities in Nigeria's commercial capital, Lagos have made it compulsory for all in the state to wear face masks to curb the spread of Coronavirus.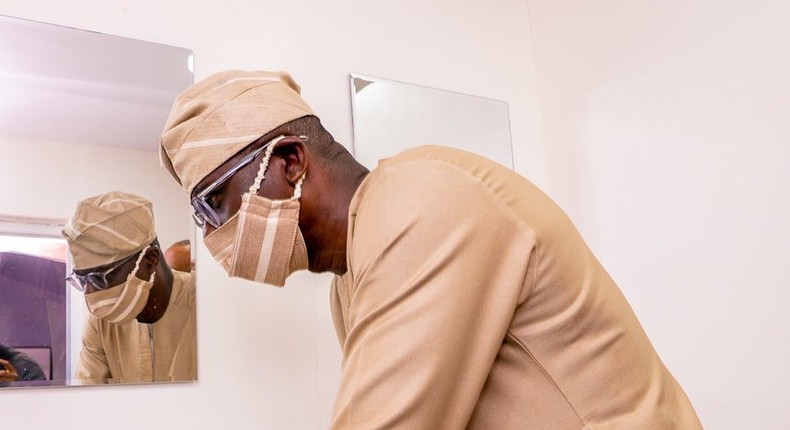 Lagos is the epicentre of the coronavirus outbreak in Nigeria
The city has recorded 731 cases. This is over half of the total confirmed cases in Nigeria.
Lagos State Governor Babajide Sanwo-Olu said anybody who fails to wear the face mask in public will be punished for flouting the law.
Babajide Sanwo-Olu added that the government will distribute face masks to all residents, thereby expecting that citizens wear the face mask.
Lagos State has a population of about 20 million people. Many of these people live in overcrowded areas.
Meanwhile, Lagos state, Ogun state, and the capital, Abuja state, have been in lockdown for a month.
The President, Muhammadu Buhari is expected to decide whether the lockdown will be extended or not later today.
As of Sunday (April 26, 2020), Nigeria had confirmed 1273 cases and 40 deaths.
JOIN OUR PULSE COMMUNITY!
Recommended articles
Lady closely misses death while using loaded gun for TikTok video (watch)
Releasing sex videos of Aisha Huang with 'big men' is a crime — Charles Bissue
5 kitchen ingredients that you can use for pink lips
Rafael Nadal speaks on complicated year after receiving award from Spanish king
For men: 5 places you shouldn't touch a woman during s*x
Funeral of Ghanaian man who had 20 wives, 111 children and 500+ grandkids draws huge crowd
Video of Ekow Blankson's last moment at the hospital before his death surfaces (WATCH)
"We're paying for every slight error" - Inter boss Inzaghi cries out after losing to Mourinho-less Roma
Woman who shares the same bed with 2 husbands in one house speaks (video)
Our newsletter gives you access to a curated selection of the most important stories daily.