Drake beats Kendrick Lamar to win Best Male Hip Hop Artist; Full list of winners
Nicki Minaj also won Best Female Hip Hop Artist of the year for the seventh consecutive time.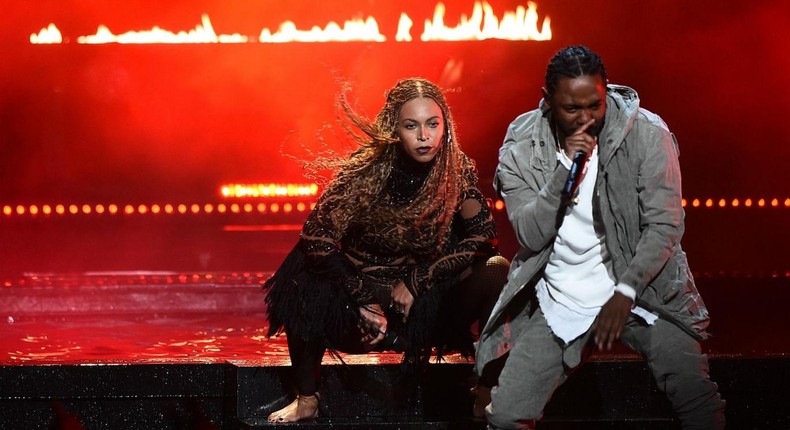 The 2016 Black Entertainment Television (BET) Awards which came off in Los Angeles saw
Below is the full list of winners:
Best Female R&B/Pop ArtistBeyonce (WINNER)AdeleAndra DayK. MichelleRihanna
Best Male R&B/Pop ArtistBryson Tiller (WINNER)Chris BrownJeremihThe WeekndTyrese
Best GroupDrake & Future (WINNER)2 Chainz & Lil WaynePuff Daddy & the FamilyRae SremmurdThe Internet
Best CollaborationRihanna ft. Drake - "Work" (WINNER)Big Sean ft. Chris Brown & Ty Dolla $ign - "Play No Games"Big Sean ft. Kanye West & John Legend - "One Man Can Change the World"Future ft. Drake - "Where Ya At"Nicki Minaj ft. Beyonce - "Feeling Myself"
Best Male Hip Hop ArtistDrake (WINNER)Fetty WapFutureJ. ColeKanye WestKendrick Lamar
Best Female Hip Hop ArtistNicki Minaj (WINNER)Dej LoafLil KimMissy ElliottRemy Ma
Video of the YearBeyonce - "Formation" (WINNER)Bryson Tiller - "Don't"Drake - "Hotline Bling"Kendrick Lamar - "Alright"Rihanna ft. Drake - "Work"
Video Director of the YearDirector X (WINNER)Benny BoomChris BrownColin Tilley and the Little HomiesHype Williams
Best New ArtistBryson Tiller (WINNER)Alessia CaraAndra DayKehlaniTory Lanez
Dr. Bobby Jones Best Gospel/Inspirational AwardKirk Franklin (WINNER)Anthony Brown & Group TherapyErica CampbellLecraeTamela MannTasha CobbsBest ActressTaraji P. Henson (WINNER)Gabrielle UnionKerry WashingtonTracee Ellis RossViola Davis
Best ActorMichael B. Jordan (WINNER)Anthony AndersonCourtney B. VanceIdris ElbaO'Shea Jackson Jr.
YoungStars AwardAmandla Stenberg (WINNER)Quvenzhane WallisSilentoWillow SmithYara Shahidi
Best MovieStraight Outta Compton (WINNER)Beasts of No NationConcussionCreedDope
Sportswoman of the YearSerena Williams (WINNER)Cheyenne WoodsGabrielle DouglasSkylar DigginsVenus Williams
Sportsman of the YearStephen Curry (WINNER)Cam NewtonKobe BryantLeBron JamesOdell Beckham Jr.
Coca-Cola Viewers' Choice AwardBeyonce - "Formation" (WINNER)Bryson Tiller - "Don't"Chris Brown - "Back to Sleep"Drake - "Hotline Bling"Future ft. Drake - "Where Ya At"Rihanna ft. Drake - "Work"
Centric Award?Beyonce - "Formation" (WINNER)Andra Day - "Rise Up"K. Michelle - "Not a Little Bit"Rihanna - "BBHMM"The Internet - "Under Control"
Best International Act AfricaWizkid (Nigeria) (WINNER)AKA (South Africa)Black Coffee (South Africa)Cassper Nyovest (South Africa)Diamond Platnumz (Tanzania)Mzvee (Ghana)Serge Beynaud (Cote D'Ivoire)Yemi Alade (Nigeria)Best International Act UKSkepta (WINNER)KanoKrept & KonanLianne La HavasStormzyTinie Tempah
List compiled by billboard.com
JOIN OUR PULSE COMMUNITY!
Recommended articles
A/R: Police fraternity, Senior officers bid farewell to Police officer who died in fire with family
Here are ways to naturally enlarge the male organ
Court orders lady to pay $80,000 to man for dumping him after he paid her school fees
Kenya and Tanzania tear down 23 trade barriers hindering their commercial relationship
Uganda's State House allocates billions for brand new cars for the President and Vice President
Guest house boss shoots customer for complaining about malfunctioning TV
4 healthy questions to ask a new partner before having sex
Waiter almost ruined my date, he shouted 'pa pa paa' whilst another man took me out - Michy
East Africa continues to experience an impressive intra-trade growth trajectory