Enforce laws to curb child trafficking - Rev Deegbe
This year, the focus for World Day Against Child Labour is on child labour and supply chains.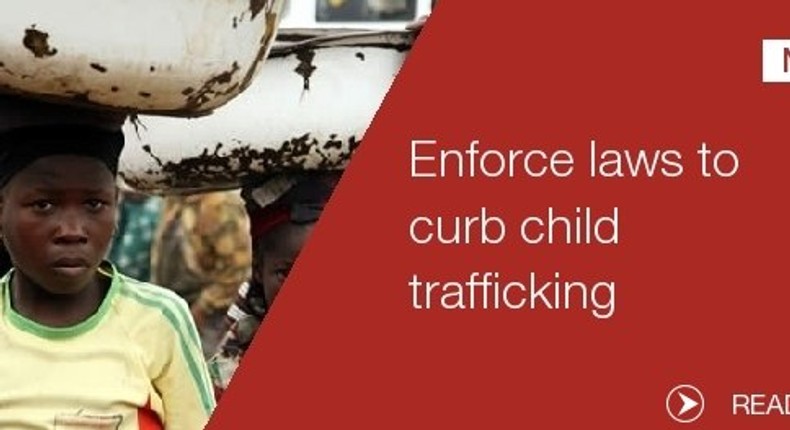 Government has been charged to strictly enforce the nation's laws to reduce child trafficking
The world is today, June 12 marking World Day Against Child Labour and according to the immediate past General Secretary of the Christian Council, Revered Fred Deegbe, advocacy from churches ad NGOs on child trafficking is not enough to stop the menace.
Addressing journalists on the trends of child trafficking specifically on the Volta Lake, Rev. Deegbe advocated for the prosecution of persons caught engaging in child trafficking.
He argued that the church and NGOs can only do so much as highlighting some of these practices but unless the state takes the needed to step to prosecute perpetrators, the practice will continue and possibly increase.
"There is always a linkage between the church and law enforcement authorities. What the church can do and what an NGO can do is to advocate and blow the whistle but who has the power to arrest the perpetrators? It's the state so…"
"We can talk, we can make the noise but the compassion will not stop the menace unless the law enforcement also comes in," he remarked.
With an estimated number of 168 million children still in child labour, all supply chains, from agriculture to manufacturing, services to construction, run the risk that child labour may be present.
The Director-General of the International Labour Organization (ILO), Guy Ryder in a statement to mark the day said: "Child labour has no place in well-functioning and well regulated markets, or in any supply chain. The message that we must act now to stop child labour once and for all has been affirmed by the Sustainable Development Goals. Acting together, it is within our means to make the future of work a future without child labour."
JOIN OUR PULSE COMMUNITY!
Recommended articles
'BBTitans': 2 housemates break one of Big Brother's greatest rules
Tailor Elikem Kumordzie gets backlash for comment on Sarkodie's outfit
5 veteran actors we miss onscreen
Ghana's gift to the world: How Idris Elba served the Ghanaian kente at Akwasidae
Nana Agradaa charged for sharing nude pictures of a Prophet
Christian Atsu reportedly missing under rubble after earthquake in Turkey
Ibrahim Mahama to pay for treatment of former NSMQ contestant suffering from bipolar disorder
Video: Christian Atsu's family sings praises to God after footballer's rescue
65th Grammy Awards: Dentaa Amoateng sells Ghana to the world with the perfect kente outfit