Minority considering impeachment process against Mahama
Mr. Kanazoe who has won three contracts awarded by the Ghana government, is said to have given the president a Ford Expedition vehicle valued at $100,000.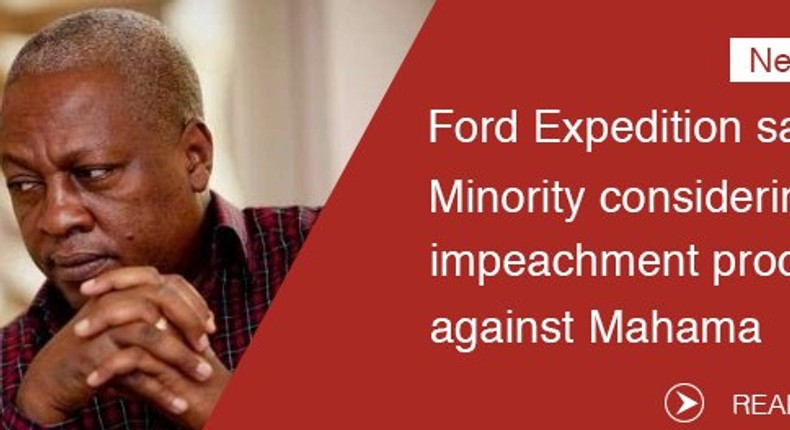 The Minority in Parliament may begin an impeachment process against
According to a publication by myjoyonline.com, the Burkinabe contractor earlier denied giving the president a gift but later confessed after Manasseh Azure who was investigating "showed him a letter written by the Ghana Mission in Burkina Faso confirming the gift."
Although Communications Minister, Dr Omane Boamah in a statement has admitted that the President took the gift, he maintained that it never influenced the decision to award contracts to the Mr. Kanazoe.
"The said vehicle, which was placed in the vehicle pool at the Presidency as per established convention had nothing to do with the award of the contracts. The inference of conflict of interest is therefore absolutely false and untenable," portions of the statement read.
But a publication on citifmonline.com said the minority sees the development as grounds for impeachment proceedings against President Mahama, saying it is a violation of the code of conduct governing public officials.
"We planned and organised our constitution such that the President will not be in need. How many vehicles are in the presidential pool and how many vehicles can he not have? Does he need this gift? Does the state need this gift from a contractor? Why didn't he [contractor] reduce the cost of the project rather? Some decisions are not personal, whether to impeach the President or not, whether it is right or legal but whether it is politically right is another issue."
JOIN OUR PULSE COMMUNITY!
Recommended articles
Top 10 African countries with the highest GDP projections for 2023
Top 5 economies in Sub-Saharan Africa to watch out for in 2023, according to IMF
Tanzania joins the list of African countries to sign an oil deal in the new year
Shocking IMF report reveals Angola and Ethiopia to surpass Kenya as top economies in Sub-Saharan Africa
10 wedding gowns on trends for 2023 brides
Aisha Modi reveals her killing job in America that pays extremely well (WATCH)
Court orders lady to pay $80,000 to man for dumping him after he paid her school fees
Nigerian LGBT rights activist being installed chief in Ghana falls off palanquin (video)
Kenya and Tanzania tear down 23 trade barriers hindering their commercial relationship