Unscrupulous agencies milking Ghana graduates; Government must sit up!
As the quest to find a job in a limited job market increases, some people who probably fall within the unemployed category have taken advantage of the situation and resorted to duping others by setting up non-existing recruitment agencies.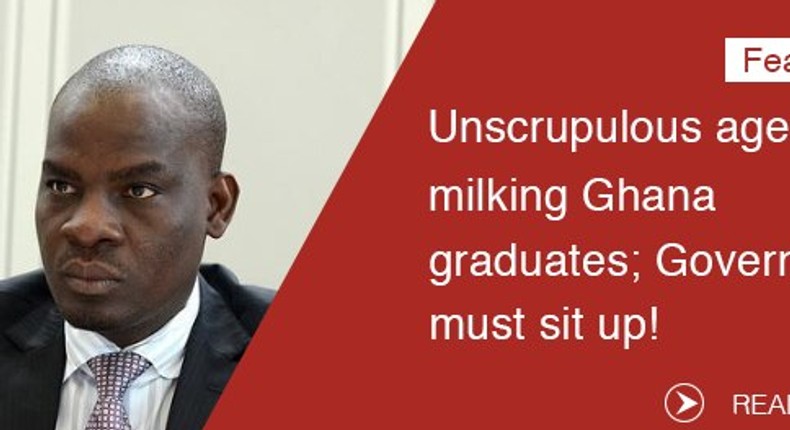 Many have said Ghana is sitting on a time bomb as there is a
According to figures from the Ghana Statistical Service, unemployment rate in Ghana averaged 8.82 percent from 2001 until 2013, reaching an all-time high of 12.9 percent in 2005.
Per Trading Economics global macro models and analysts expectations, Ghana's unemployment rate is expected to be 8.60 percent by the end of the second quarter and has projected that it will be around 9.00 percent in 2020.
As the quest to find a job in a limited market increases, some people who probably fall within the unemployed have taken advantage of the situation and resorted to duping others by setting up non-existing recruitment agencies.
These agencies take monies from the unemployed only to smear their faces with muds.
"I applied for what looked like a genuine Office Assistant job from one of the job websites. Then I got message that I have been shortlisted. Few days later, I received a call from them that in order to make it to the interview, I had to register with them and the registration fee was GHS50. After I sent the money, they won't pick up my calls and after some days, the number stopped working" a victim told Pulse Ghana.
Of course, the Ghana Labour Act (Act 651) gives room for employers to employ through either a Centre or a Private Employment Agency but also spells out the conditions for taking monies from candidates.
Section 7 subsection 1 states that, "A person shall not establish or operate a Private Employment Agency unless that person is a corporate body, has applied to, and has been granted a license by the Minister."
Subsection 7 also stipulates that, "An Agency shall refund fifty percent of the fees paid by a client to the Agency, if the Agency is unable to secure a job placement for the client after the expiration of three months."
Regrettably, some jobseekers are ignorant of this, a situation which has led to even registered agencies getting away with such a provision.
In April 2016, Minister of Foreign Affairs, Hanna Serwaa Tetteh who appeared before the Public Accounts Committee (PAC) of Parliament indicated that two hundred illegal employment agencies are recruiting Ghanaians to work abroad, especially in the Gulf Region.
She mentioned that these agencies aside taking monies from victims took commission from their partners in the Gulf Region, adding that the victims go through a number of challenges.
According to her, only twenty-two recruitment agencies were duly registered in the country.
Despite the numerous calls for jobseekers to be extra vigilant, people always fall victims.
Commenting on the issue, Richard Dogbe, Chief Executive Officer and General Manager of JobHouse Services Limited said the development affects the works of registered recruitment agencies.
"Jobseekers don't trust all agencies, labeling all of us as fraudsters. We sometimes find it difficult to attract suitably qualified professionals for some senior level positions due to stereotypes about recruitment agencies. A number of employers and companies have come to erroneously believe all recruitment agencies extort money from job seekers," he told Pulse Ghana.
Mr Dogbe remarked that people seeking for jobs are not to pay monies to agencies.
"Job Seekers should never pay to get a job. Whether it is before interview, for registration for job placement, after the initial interview, for processing of some supposed documents, etc. When you check our website, jobhouseghana.com, there is this note we display under all job listings which reads, 'Important notice to job seekers: Do not make payments in any form or manner to any individual, company or organization before getting a job via our website for jobs in Ghana. Any individual or organization that attempts to make you pay any monies either for registration, processing of some documents or whatever is 99% FAKE or fraudulent!'" he said.
Adding, "Payment by job seekers to recruitment agencies is only advisable when such payment is not directly linked to a particular job. For instance, if the payment is for CV upgrade, career coaching, skills development etc. Such are okay."
With the increasing rate of these scammers and the danger it poses to prospective applicants, registered recruitment agencies and the nation as a whole, it is required that people be extra vigilant in their dealings. That notwithstanding, government should crack down these fake recruitment agencies.
JOIN OUR PULSE COMMUNITY!
Recommended articles
Top 10 African countries with the highest GDP projections for 2023
Top 5 economies in Sub-Saharan Africa to watch out for in 2023, according to IMF
Tanzania joins the list of African countries to sign an oil deal in the new year
Shocking IMF report reveals Angola and Ethiopia to surpass Kenya as top economies in Sub-Saharan Africa
10 wedding gowns on trends for 2023 brides
Aisha Modi reveals her killing job in America that pays extremely well (WATCH)
Court orders lady to pay $80,000 to man for dumping him after he paid her school fees
Nigerian LGBT rights activist being installed chief in Ghana falls off palanquin (video)
Kenya and Tanzania tear down 23 trade barriers hindering their commercial relationship