U2's frontman might never play the guitar again
Bono recently said in an interview that his chances of playing the guitar again are 'not looking good'.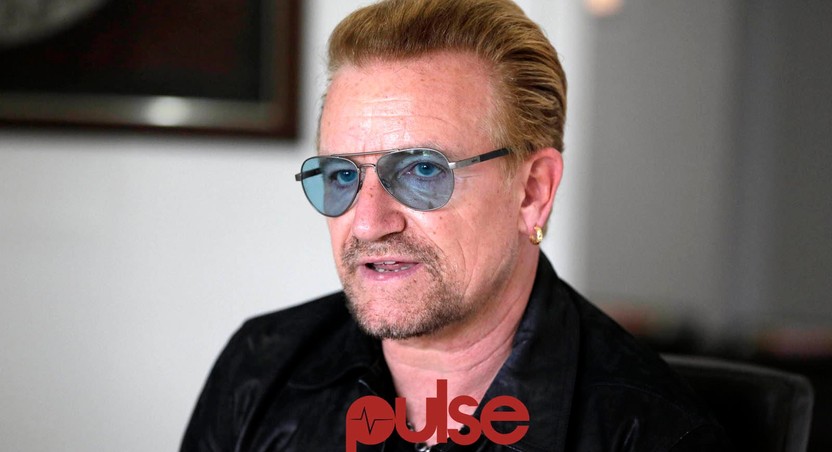 U2 frontman, Bono, has admitted that his chances of ever playing the guitar again are 'not looking good'.
The 55-year-old broke his left arm in six places and suffered multiple fractures on his face, arm, shoulder and left hand after falling off his bicycle in New York's Central Park last November.
Bono revealed he remains uncertain whether he can play his instrument any more, as two of his fingers remain numb months after the accident.
"It's not looking good. I'm embarrassed talking about it. It's just a bummer if you like playing guitar," he told Q Magazine in the September issue of their magazine.
"I nearly crippled myself. I was that close," he recounted.
The rocker, who is married to Ali Hewson, and has four kids, thinks he needs to start taking better care of himself as he gets older.
He said, "Ali says to me, 'Can't you take a hint. You drive through life like a tank.' And it's true. Edge says I look upon my body as an inconvenience. I guess that's going to have to stop".
The Irish rocker explained to New York Times in April that he was still experiencing difficulties with his hand.
"It feels like I have somebody else's hand. I can't bend these [fingers], and this is like rigor mortis. But they say that nerves heal about a millimeter a week, so in about 13 months I should know if it's coming back.
'It's all numb here, and this is titanium. The shoulder's better, the face is better. But this is the hard bit because I can't play guitar. They [the band] don't seem to mind."
Bono had taken his fans through his exhaustive list of injuries on U2's website in January.
Under a section entitled I For Irish Pride, Bono - who explained his 'humerus bone was left sticking out through his leather jacket' - wrote: 'Recovery has been more difficult than I thought...
"I personally would very much miss fingering the frets of my green Irish falcon or my (RED) Gretsch. Just for the pleasure, aside from writing tunes. But then does the Edge, or Jimmy Page, or any guitarist you know have a titanium elbow, as I do now? I'm all elbows, I am."
He spoke about the various lessons he's learned from mistakes "the first of which is the discovery that I am not an armored vehicle. Edge says I look at my body as an inconvenience...The problem, as I see it, is that I think my head is harder than any other surface."
According to Mail Online, He went on to try to explain how his accident occurred, but ended up confusing fans as he didn't really appear to know the details himself.
"On the day of my 50th birthday I received an injury because I was over indulging in exercise boxing and cycling, which was itself an overcompensation for overindulging on alcohol coming up to the big birthday.
I promised myself I would be more mindful of my limits, but just four years on, it happened again - a massive injury I can't blame on anyone but myself, mainly because I blanked out on impact and have no memory of how I ended up in New York Presbyterian with my humerus bone sticking through my leather jacket. Very punk rock as injuries go."
JOIN OUR PULSE COMMUNITY!
Recommended articles
Okyeame Kwame: I've never cheated on my wife in our 12-year marriage
'I f**king love gays, nobody should sit on their freedom' - Shatta Wale on anti-LGBTQ+ bill
Here are 7 things you missed at Pulse Influencer Awards 2021
'Is he not gay?' - Social media react to Nana Tonardo kissing his 'white sugar mummy' (VIDEO)
E.L's "Superhero" clocks 20M plays on Spotify, becomes most streamed Ghanaian hip-hop song
'Ghanaian acts need to work 10 times harder to get to where Nigeria is' - King Promise
'I lay at your feet' - Okyeame Kwame says as he marks his wife's birthday
'Sucking breast gives wisdom and long life, do it every morning' - Captain Smart to men (WATCH)
MzGee breaks silence after quitting TV3, says 'it is now time to fly higher'