Star slams Kylie Jenner/Tyga chemistry in 'Stimulated' video
Did Tyga's new video fali to stimulate Kim Kardashian? Read what she really thinks about the video...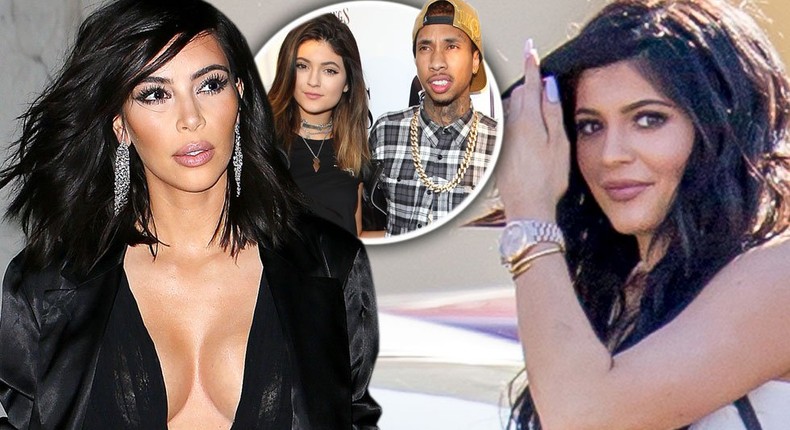 Now, Kim Kardashian has allegedly blasted the rapper's on-screen romance with her sister Kylie Jenner, calling it "mediocre" and compared to her own cameo on 'Bound 2' with Kanye West, Kylie is just an "amateur"! Ouch!
Reports say the pregnant star is not exactly impressed with the make-out-filled video. In fact she thinks Tyga was trying too hard to re-make Kanye's 'Bound 2' video.
A source tells HollywoodLife, "Kim saw Kylie and Tyga's 'Stimulated' music video and she wasn't impressed. She thought the song was just OK and felt the chemistry between Tyga and Kylie was mediocre." Is Kim feeling a bit jealous of her now-grown-up baby sis, and wants to remind her that she is queen!
The source went on say that "Kylie's attempting to steal Kim's swag and she's failing. Kim told her that 'Bound 2' was 'epic and fabulous in all proportion' and said 'the chemistry and sex appeal that my husband and I exuded can't be duplicated.' She reminded Kylie of how big Bound 2 was. It was the most talked about music video for months and celebrities were imitating the video."
"She went further with Kylie, explaining to her baby sister that she's the original video vixen of the family and the reigning queen of television and social media too!" source added.
Well, there's no denying that 'Bound 2' is one of the most-talked about music videos to date but isn't Tyga's new video worth the competition?
Recommended articles
Keeping the rap genre alive is my responsibility - Amerado
Samini calls out Sarkodie for exploiting fellow acts, details encounter with the rapper
Shatta Wale accepts 'big brother' Sammy Flex's advice to cancel his Freedom Wave Concert
Sarkodie is two-faced and disrespectful – Samini
I can't believe I fell for that 'Dr. UN Award' nonsense – D-Black mocks himself 3years on
MzVee adds her voice to #OccupyJolorbiHouse protest; says 'the gov't has ignored us'
Stop disrespecting Nana Addo and Bawumia; NPP reportedly writes to United Showbiz
AFRIMA mourns Mohbad, call for institutions in African music industries
'With the right support and investment, I can fill the O2 Arena' - Samani Dagaati