Angry groom slaps bride at wedding reception to the surprise of guests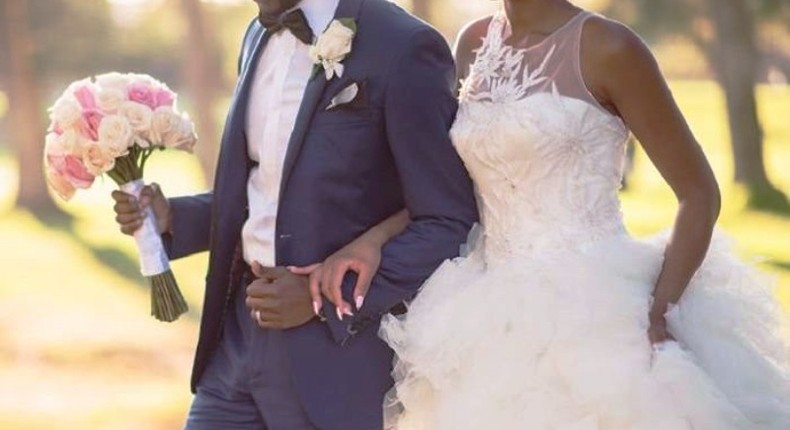 A Twitter user identified as @MmantiUmoh who witnessed the incident expressed disbelief at what she saw.
According to her, the event was ongoing smoothly but suddenly, things turned sour and nobody knew what the bride had done to infuriate the groom to the extent that he couldn't control himself on the day they were supposed to be happy.
@MmantiUmoh warned her fellow women to stay away from abusive men, adding that "one doesn't owe violent people love".
Narrating the incident in a Twitter thread, she said: "At the reception today, the groom slapped the bride so hard for one second I thought a helium balloon had burst. While we were taking 10 seconds to recover from the shock... "Angel"; Please let's march in ****is tired and under a lot of pressure, let's please just go in and..."
@MmantiUmoh went further to disclose how the groom's best man was taken aback at his action and asked the assaulted bride what offence she committed to warrant the public shame.
"And maybe it's worthy of note that even the best man asked angel "what did you do to him, why is he upset?" Well, the mc called and music roared and everyone walked in like nothing had happened. The couple danced from the entrance to the podium. The cycle of domestic violence begins."
She again revealed that families and friends of both the groom and the bride were present and witnessed the embarrassing scene.
"Please don't ask me what I did. I did absolutely Nothing! Their parents witnessed the slapping ceremony.... some of their family members did too. I went home. I had a migraine. I don't want to attend any weddings for a bit again. I will send my gift.
"For those who insist on living with domestically violent partners. Well, I imagine God doesn't rejoice over a marriage ending, but do you think God is okay with you being abused and living without love? Do you believe it's possible that God might hate that even more?" she quizzed.
JOIN OUR PULSE COMMUNITY!
Recommended articles
Restaurant ordered to pay customer $9.4 million after serving him bleach instead of water
Ghanaian professor appointed acting Vice-Chancellor of University of Kigali, Rwanda
Ghanaian woman visits prayer camp for solutions, gets raped and killed
15-year-old boy butchered by suspected Fulani herdsmen despite his plea for mercy
No secondary school graduate should be President again – Nigerian Speaker Gbajabiamila
Bald man's head cut off by ritual killers who believe it contains gold
Ghanaian pastor allegedly steals female congregant's ¢40k, sets her house ablaze and flees
12-year-old boy seeks help to raise GHc90,000 for bloated heart treatment
Church members allegedly asked to kneel outside as punishment for lateness (video)