Angry soldiers assault a friendly civilian for merely saying "you're beautiful" (video)
Soldiers are said to be civilian-friendly but an innocent man has learnt that the saying might not necessarily be true after all.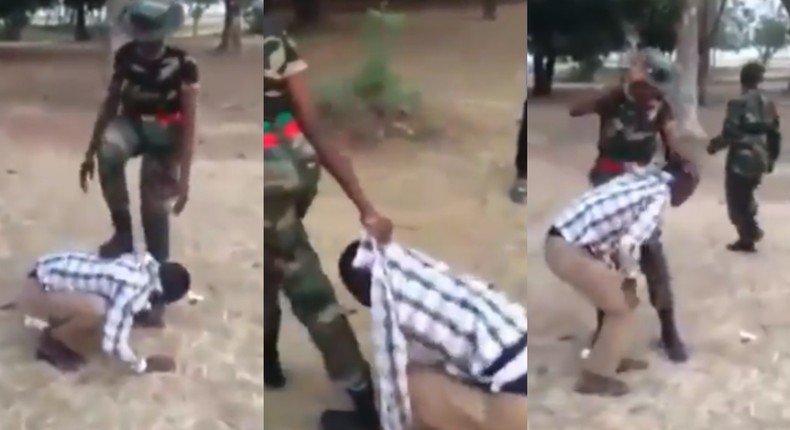 His offence, from the video was that he passed a compliment at one of the soldiers who happens to be a female.
She got offended by the man's compliment that she "looks beautiful".
The video shows the soldiers surrounding the man whiles he kneels on the ground.
The officers could be seen taking turns to slap him several times and kicking him with their boot before dragging him on the ground.
The victim could be heard crying and pleading for mercy but that only infuriated the soldiers more.
The sad incident is reported to have happened in Nigeria.
Some people believed to be civilians could also be seen filming the assault.
JOIN OUR PULSE COMMUNITY!
Recommended articles
'You are promoting Antichrist if you wear jeans' - Prophetess claims
Serious prayer & tongue-speaking by passengers as aeroplane develops fault mid-air (video)
I've accepted marriage proposal of my friend's boyfriend but I'm feeling guilty - Lady cries
Ghanaian man cries out after thieves broke into his shop and stole 2 coffins (video)
Man who scored 9 'Fs in chain' graduates from university with first-class degree
Man sets Guinness World Record after lifting a woman weighing 63.80kg with his beard (video)
Man reports his close friend to authorities for getting rich overnight
19-year-old girl stabbed multiple times in Accra after catching her brother & mother having sex
Pressure mounts on SDA pastor to resign for saying "the best person to rape is your wife"