Pilot turns motorbike food delivery man as planes can't fly due to COVID-19
Necessity they say is the mother of invention. As COVID-19 has caused the grounding of airplanes, many employees in the aviation sector sent home on unpaid leave with no clear end in sight for the pandemic.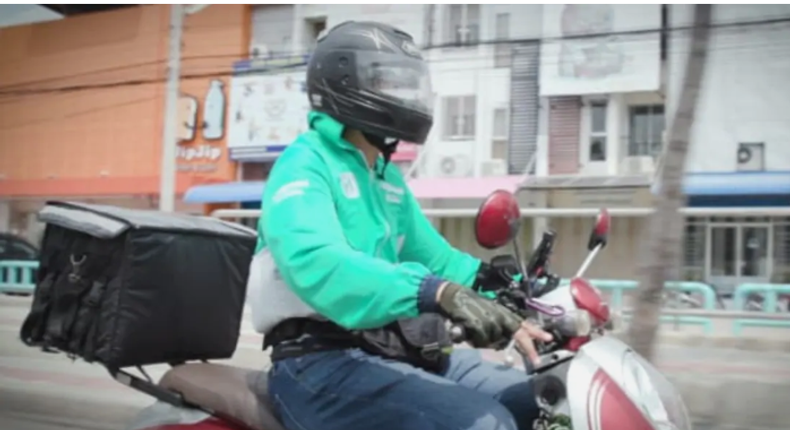 If it hadn't been for the deadly virus that has hijacked the world Nakarin Inta, a Thai commercial pilot would have been flying airplanes in the air from one destination to another but now he's rather riding a motorbike on the ground delivering food.
Pilot turns motorbike food delivery man as planes can't fly due to COVID-19
The 42-year-old with a four-year experience has resorted to delivering food using motorbike using Line Man, a local messenger app, reports say.
"Some airline staff have been on leave without pay. For most of us, the income has been cut off more than 70%. I still have expenses every month so I had to find something on my own," the Thai Lion Air pilot told CNN.
Bangkok's food delivery service apps have surged in popularity due to lockdown measures imposed by the Thai government in March to curb the spread of the novel coronavirus.
Although he can't practice his profession now Nakarin Inta thought he could generate some money to support his wife and a four-year-old daughter by delivering food orders on his motorcycle, since that seems to be the new normal.
Pilot turns motorbike food delivery man as planes can't fly due to COVID-19 Pulse Ghana
"I thought, I cannot just sit there and wait for help. I have to fight for my family. I have to do something and I have both hands, I have my motorbike so I found my part-time job. And now I am a food delivery man," he said.
Reports say Nakarin Inta was earning between GHS 34,789and GHS 46,200 but now hopes to earn at least GHS4,891 a month from the food delivery job.
He disclosed that more than 50 of his colleagues have also turned to other ventures in a bid to make ends meet, so he is not alone.
"Some are even using their luxury vehicles for their part-time job, such as BMW motorbikes. I think everybody was by the pandemic. But look at the one beside you, your loved ones. You have to fight for them and fight for yourself," he added.
JOIN OUR PULSE COMMUNITY!
Recommended articles
Adorable twins bag first-class degrees from the same university
Doctor and nurse suspended for having sex, moaning and disturbing patients who're in pain
You'll need us when you get wounded; stop attacking us – Ambulance Service to armed robbers
IGP chases & arrests 'fake' Toyota Landcruiser V8 driver for reckless driving
33-year-old lady will be the first black woman to live in space and work
Police save little boy who hid inside aeroplane's engine to travel abroad (video)
Pacific lingcod, a fish with 555 teeth loses up to 20 everyday & grows them back immediately
Man sparks reactions as he reserves the front seat of his car for his "wife only"
Boys of this tribe must perform blowjob on older men, drink their semen to "grow properly"