4 tips to get rid of under eye puffiness
The anti-oxidants present in cucumber helps to reduce the irritation and redness. And its astringent properties reduce the water retention under the eyes.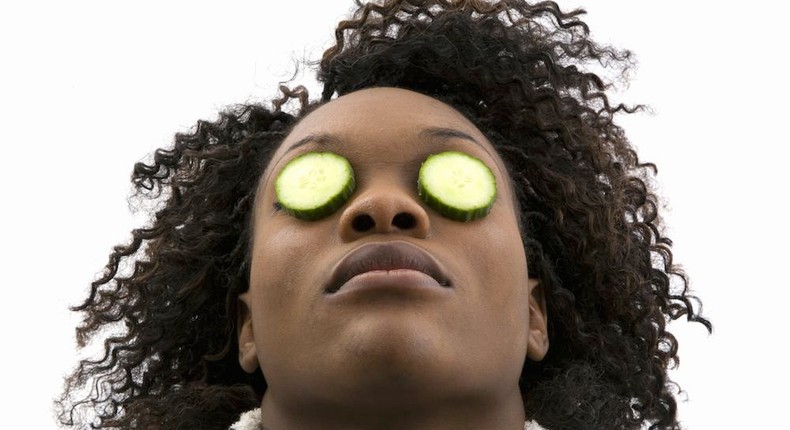 Eye puffiness is usually occurs when there is an excess build up of water or lymphatic fluid under the eyes.
Other factors such as lack of sleep, smoking, alcohol, genetics, allergy, dehydration, iron deficiency, low blood sugar, and hereditary are some of the reasons that trigger the fluid retention.
Here are three natural ways to cure eye puffiness at home:
Slice the raw potato into half and place it on your eyes for 15-20 minutes. Remove and rinse off with water. Repeat 2 – 3 times a day.
The antioxidants and nutrients present in it keep the skin smooth and bright.
The combination of coldness and starch of potatoes develop anti-inflammatory effect. This helps in reducing the swelling.
Pour chilled water in a bowl and add a few drops of vitamin E oil to it, now mix the two well.
Dip clean cotton pads in this mixture and place on the eyes for 20 minutes, this will help in reducing the swelling around the eyes.
Stiffly beat a few egg whites and apply it around your eyes with a cotton. Leave it on for 20 minutes and then rinse your face with cold water.
Cucumbers are a fantastic natural remedy to get rid of under eye puffiness. Take 2 slices of fresh refrigerated cucumber and place it on your eyes for 25 minutes. The anti-inflammatory properties of the cool cucumber will naturally help reduce puffy tissues.
Recommended articles
DIY Recipes: How to make Ga kenkey with sauce and fried fish
10 trending kente styles that took over the 'gram in February
For couples: 5 best tips to have better sex and intimacy
Chatrooms and how they may be the most fun, or most dangerous places
4 common foods that are healthy for the skin
For women: 3 common infections you could contract during menstruation, remedies
DIY Recipes: How to make rice porridge
Penelope Adinku: Meet Ghanaian female surgeon who just set an incredible feat
Pull-out method during sex? Here's how it may fail, risks