How to prepare 'fufu' and fish palm nut soup
Pulse daily DIY recipe teaches prospective chefs how to prepare healthy, Ghanaian dishes in a simple way.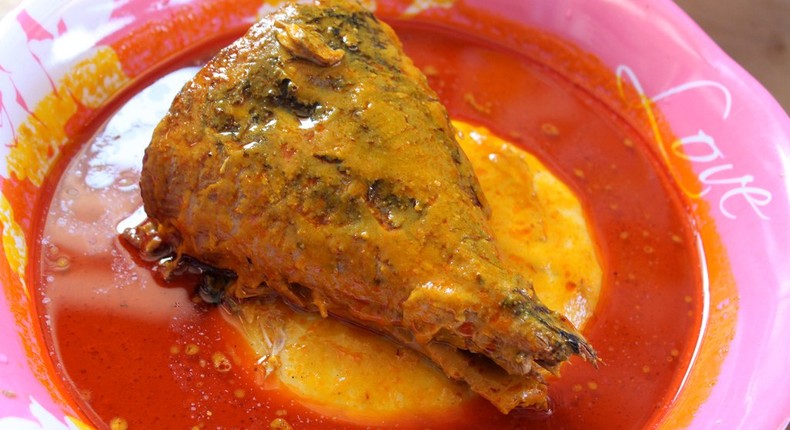 Bowl of palm nuts
Fresh fish ( dry fish)
Fresh tomatoes
Onions
Pepper
Garlic cloves
Ginger
Salt
Maggie
1. Wash the palm nuts and pepper boil for about 45 minutes to an hour. You want it soft enough to fall off the nut when squeezed between you thumb and fore finger.
2. Wash the fish with clean water twice and put in a large saucepan.
3. Blend the garlic, ginger, onion and add to the fish.
4. Crumble 1 maggi cube over it , add salt and steam.
5. Wash fresh tomatoes and add to steam.
7. Pound the nuts in a mortar until it looks fibrous and the black kernels are loose.
8.Pour it all out into a large bowl add about a litre of hot water. Using your hand, take the fiber part bit by bit and squeeze the liquid out and set aside. Then remove the kernels, shaking off the liquid back into the bowl. Keep doing this until you have mostly liquid with a few fibers in it.
9. Now place a colander over a saucepan and gently pour the palmnut mixture into it. You need to do this gently and Leave a little of this liquid in the bottom with the black bits.
10. Rinse out the colander and place over a different bowl and gently repeat the process. Do this 3 or 4 times till you have no bits in the bottom of the pot.
11. Remove tomatoes and pour palm nut solution over the steaming meat and let it continue to cook over a high fire.
12. Blend the tomatoes and add it to the soup.
14. Stir carefully so you don't break the fish. Cook for 10 to 15 minutes longer and it is ready.
Recommended articles
Top 10 most followed celebrities on Instagram – 2023
4 sexual fantasies women often have
DIY Recipes: How to make baked chicken balls
The best celebrity pictures on Instagram this week
5 reassurances your girlfriend needs to hear regularly
For women: 5 causes of a missed period apart from unsafe sex
Check out the multi-million dollar outfit Despite wore for his 61st birthday [Photos]
Opulence, flamboyance on display as Osei Kwane Despite celebrates 61st birthday [Videos]
Valentine's Day: 7 unique date ideas to celebrate this romantic day