DIY Recipes: How to make Mixed Vegetable Jollof
This jollof rice recipe is not only pleasing to the eyes but also the palate.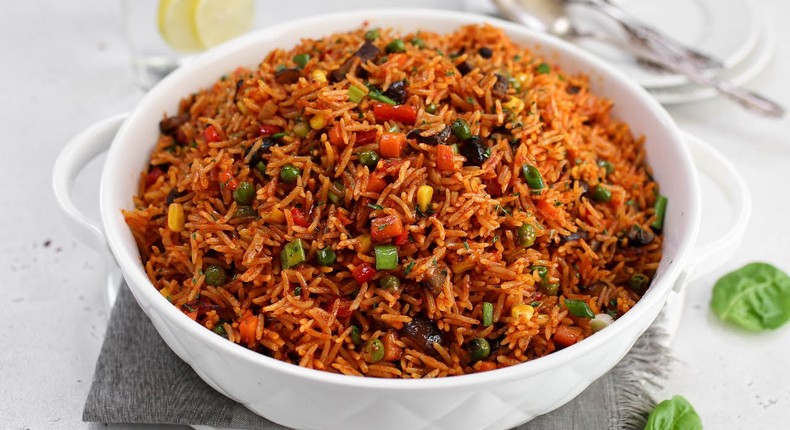 It's a blend of flavours your taste buds would remember for a long time.
6 cups Rice (washed properly and drained.)
½ large green pepper (chopped)
1 large red bell pepper (chopped)
1 habanero pepper (chopped)
1 cup frozen green peas (thawed)
2 cups mixed veggies (thawed)
1 finger of a ginger grater or 1 Tbsp ginger powder (optional)
8 cups of liquid. (chicken stock or a mix of chicken stock and hot water.)
Heat up cooking oil and sauté onions and crushed garlic till fragrant.
Spoon in the tomato paste as is and stir and add in all spices and herbs listed continue to stir and allow the paste to cook till it looks dry but not burnt. Takes about a minute.,( please stir continuously to prevent burning. )
Turn off heat then add chopped green bell peppers
Pour half of the liquid ( chicken stock or a mix of chicken stock and water.)
Transfer drained rice to a roast pan or a disposable aluminium steam pan and mix in the sauce.
Add the other half of the chicken stock and stir. See recipe notes 1
Taste for seasoning and adjust accordingly.
Add the green peas, and mixed veggies cover the pan tightly with aluminium foil.
Put in the oven and allow to cool for 50 mins to 1hr. By this time all the liquid should have been absorbed and rice fully cooked but not mushy.
Allow resting in the oven for about 2 mins
Bring out from the oven fluff the rice out and serve immediately.
JOIN OUR PULSE COMMUNITY!
Recommended articles
How to make tasty prawn crackers at home
10 female celebrities who do not show 'skin' in outfits yet stay sassy
DIY Recipes: How to make Chicken peanut stew
The best celebrity pictures on Instagram this week
Can't be Ghana: Here's what was served at Kourtney Kardashian's wedding reception
Wedding on a budget: When should you start planning your wedding?
5 best ways to treat under-eye puffiness at home
How to make crispy and creamy doughnuts in your kitchen
DIY Recipes: How to make Chicken cheese sandwich