How to prepare egg stew and boiled ripe plantain
Pulse daily DIY recipe teaches prospective chefs how to prepare healthy, Ghanaian dishes in a simple way.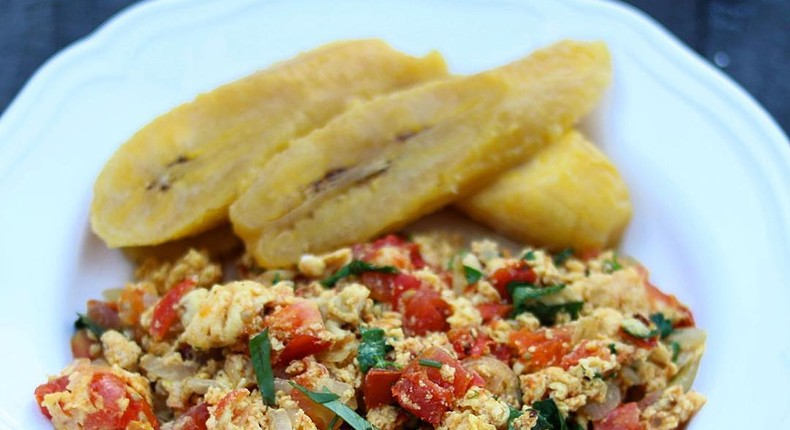 Chopped tomatoes
Sliced onions
Gloves of garlic minced
Salted tilapia
Pepper blended
Cooking oil
All purpose spices
Eggs
Salt
Rice
1. Cut salted tilapia into desirable sizes wash and soak in water for 5 minutes to remove the salt.
2. Heat onion and garlic in oil over medium heat and stir.
3. Add blended pepper, tomatoes and salted tilapia.
4. Cook to cook for 4 - 6 minutes.
5. Taste for salt and add spices.
6. Crack eggs in a bowl and add to the stew.
7. Allow to simmer and stir.
8. Cut both ends and cut through skin length-wise. Peel ripe plantain. Cut into desired sizes.
9. Boil in salt water. Check after 6-10 minutes if the plantain is soft and drain off water.
10. Serve plantain with egg stew.
JOIN OUR PULSE COMMUNITY!
Recommended articles
GIS Prom '22: Here are all the photos you missed
Brand new PS5 up for grabs in Happy Delight Essay Challenge
Make-up s*x: Here is why you should have it after a fight
Health monitoring with Redbird
Melanesians: Meet the world's only natural black blondes
3 unforgivable secrets you should never keep from your partner
Ladies and gentlemen: 5 facts about orgasm you probably didn't know
Some of the most popular Nigerian girl names and their meanings
7 foods that make the penis bigger and thicker naturally