How to prepare "Nuhuu" (Cocoyam porridge)
Pulse daily DIY recipe teaches prospective chefs how to prepare healthy, Ghanaian dishes in a simple way.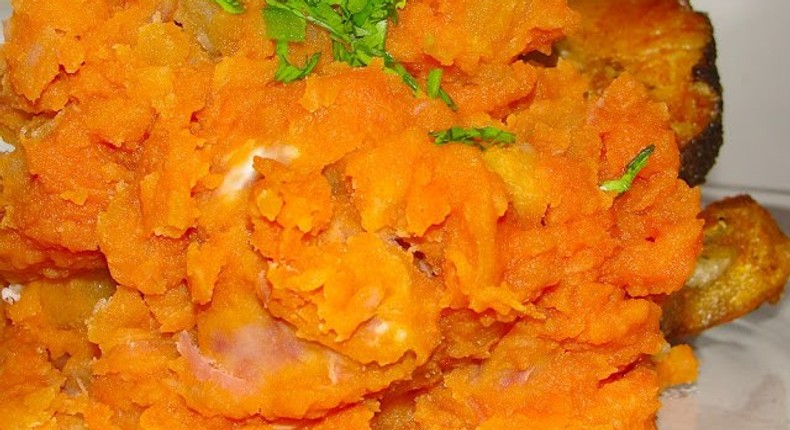 Cocoyam, peel and cubed
Pepper
Tomatoes
Onions, chopped
Garlic, chopped
Bottle of palm oil
Fish powder
Onga cube
Salt to taste
Wash all vegetables
Blend tomatoes, pepper, onion and garlic until smooth.
Heat palm oil in a large saucepan, add chopped onion and garlic and stir until onion turns golden brown.
Add blended mixture and stir continously.
After 5- 10 minutes, add fish powder, onga, taste for salt and cook for 3-5 minutes.
Wash cocoyam and add to the stew.
Add small amount of water and cover to cook for 25 - 30 minutes.
Garnish with cilantro, green pepper.
JOIN OUR PULSE COMMUNITY!
Recommended articles
The best celebrity pictures on Instagram this week
Celibacy: How to have the best sex after a long break
Osu Oxford Street to host Wogb3j3k3 carnival, exhibition
Hot bath and male fertile: Here's how hot temperatures kill sperm health
Children who sleep less than 9 hours may be less intelligent - Study finds
Energy drinks: The side effects of taking these drinks
Meet the African tribe that offers s*x to guests
Do you have a spider bite? These 7 photos can help you tell
Blow job etiquettes: Here's how to be in your best behaviour for heads