Spaghetti sauce with beef recipe
Pulse daily DIY recipe teaches prospective chefs how to prepare healthy, Ghanaian dishes in a simple way.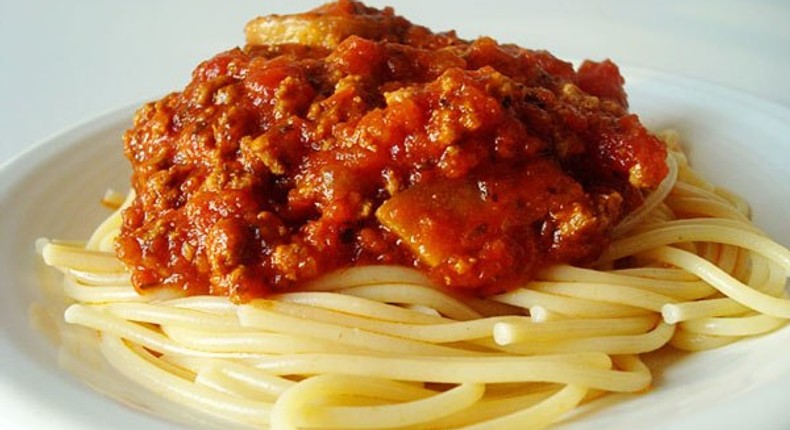 Canned beef
Onion chopped
Chopped tomatoes
Chopped fresh thyme
Finely chopped chilli
Finely chopped spring onion
Garlic clove, crushed
Grated carrots
Diced green pepper
freshly ground black pepper
Salt
Cooking oil
Onga cube
All purpose spices
Spaghetti
Heat pan over medium high heat until hot and then add oil.
Add chopped onion and garlic and saute until tender and starting to brown.
Add pepper, chopped tomato and stir intermintently.
After 6-10 minutes, add cube and allow to cook.
Taste for salt, add thyme and spices and stir
Add chopped onions, green pepper and grated carrots.
Add canned beef and allow to simmer for 3 minutes.
Boil enough water for 5-10 minutes and add a pinch of salt and spaghetti
Drain water and serve with beef stew.
Recommended articles
DIY Recipes: How to make pawpaw smoothie
4 simple ways to make eyelash extensions last longer
The best celebrity pictures on Instagram this week
Men benefit better from marriage than women - Study
For women: 4 foreplay tips to drive men wild
These are 5 top signs of fake love in a relationship
DIY Recipes: How to make Ga kenkey with sauce and fried fish
10 trending kente styles that took over the 'gram in February
For couples: 5 best tips to have better sex and intimacy