Your cocktail mug might be poisoning you
The acidic content might allow dangerous chemicals to leach from its mug.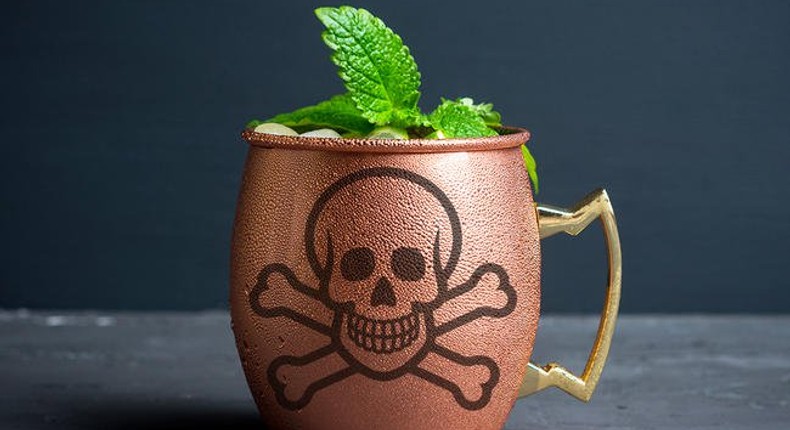 A serious health risk of drinking might come not from the beverage itself, but from the container it's held in.
Alcoholic beverages served in copper mugs may leave you vulnerable to copper poisoning, an advisory bulletin from the Iowa Alcoholic Beverages Division reports.
The drink driving the report is the Moscow Mule, a mix of vodka, ginger beer, lime, and ice that's typically served in a copper mug.
According to the U.S. Food and Drug Administration's (FDA) Model Food Code, copper and copper alloys like brass can't be used in contact with a food that has a pH of below 6, which includes things like vinegar, fruit juice, or wine. And Moscow Mules fall well below that level, the Iowa Alcoholic Beverages Division reports.
If the copper mug isn't lined with another metal, like nickel or stainless steel, that could be a big problem. When the copper or copper alloys come into contact with food or liquid with a pH below 6, the copper can leach into it. So you might be taking in a concentration of copper along with your cocktail.
"High concentrations of copper are poisonous and have caused foodborne illness," the FDA writes in their code.
If you take in too much copper, you could experience symptoms like abdominal pain, diarrhea, vomiting, or a yellowing of your skin called jaundice. Super-high levels can cause liver and kidney damage, the Agency for Toxic Substances & Disease Registry states.
It's not clear how many Moscow Mules you'd have to knock back for there to be a problem, but if you want to stay safe, there's an easy fix: When making your cocktail at home, just be sure to use copper mugs that are lined with protective substances stainless steel, like Alchemade Copper Plated Double Wall Hammered Mug with Stainless Steel Lining.
JOIN OUR PULSE COMMUNITY!
Recommended articles
Why do men get so, so angry when they're cheated on?
16 ways to make a rich, classy chic fall in love with you
DIY Recipes: How to make Apple bread
Dear men, 7 sexiest qualities you possess that attract women
How much should you spend on a wedding dress?
The best celebrity pictures on Instagram this week
Can walking after a meal help in faster digestion?
For men: 7 tips to help you have the best first-time sex
This is why revenge cheating on your unfaithful partner isn't a bad idea