This Britney Spears workout montage is all the motivation you need today
"Been keeping my body strong and motivating myself every day!!"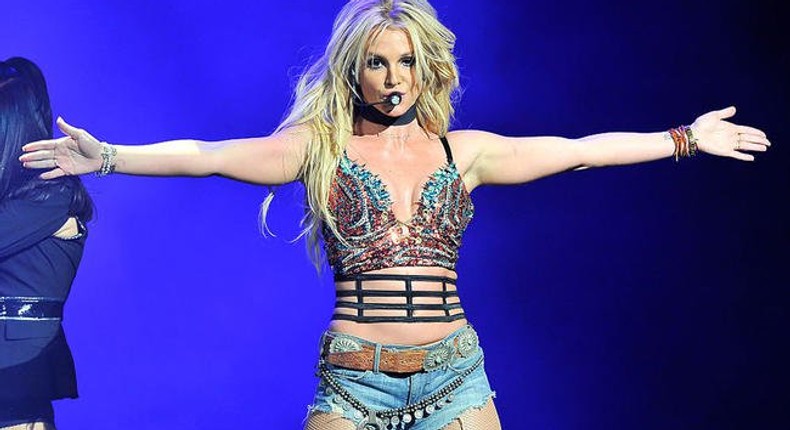 The singer regularly posts fitness videos on Instagram—and her latest one is nothing short of amazing.
In an epic video montage, Britney demonstrates a slew of workouts from different days.
"Had a couple of weeks off… ha!!" she captioned the video. "Well, not really… been keeping my body strong and motivating myself every day!! There's nothing like mommy and workout time, the beautiful outdoors, and flipping into gear."
To start things off, Britney lifts weights outside in a sports bra and shorts (to highlight her ridiculous abs, obvi). After some yoga moves, the pop star goes totally next-level—she does a freaking backflip before moving back to lifting weights!
In case that's not impressive enough, next she's inside a gym, doing high kicks like they're nothing, lat pulldowns, more weights, and arm weights while doing step-ups (we're getting tired just talking about it). Oh yeah, and then she does a perfectly straight handstand up against a wall in a bikini top—because, why not?
To top it all off, Britney reveals her flexibility by casually lifting a straightened leg over her head, throws in a few more yoga moves, and works her triceps. And that's how it's done, Britney-style.
Naturally, fans loved her workout marathon. "Get it, gurl," one wrote. "Damn, Britney, you go hard," another said.
While Britney clearly doesn't slack at the gym, she also keeps it real when it comes to workout motivation struggles. Last month, fans freaked over this post:
But Britney's latest Instagram has a great message: The whole point of working out is to be healthy and strong. And, if you're ready to work, you'll look and feel amazing, too.
JOIN OUR PULSE COMMUNITY!
Recommended articles
Make ketchup at home with ripe tomatoes
7 advantages of having children in your 30s
If you can't do these 3 things with your ex, you're not ready to move on
5 things a cheating partner says that prove they cheated
DIY Recipes: How to make shawarma bread using oats
5 signs they are the villain even if they claim to be a victim
Moaning during sex is such a good thing, according to sex experts
My girlfriend doesn't show me off on social media, what does this mean?
Original name of Africa and how it got its current name