'This guy will not be longer than me' – Ethiopian tall man challenges Ghanaian counterpart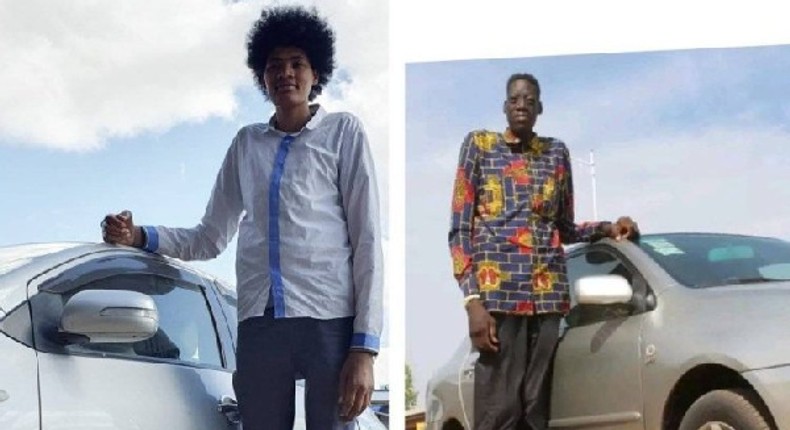 Identified as Nagawoo Jimaa, he wants to meet his Ghanaian counterpart for a measurement that will clear the doubts.
He has challenged the British Broadcasting Corporation (BBC) which originally reported about Sulemana Abdul Samed and speculated that he might be the tallest man in the world.
While the Ghanaian is reported to be 9 ft 6in (2.89m) tall, his Ethiopian counterpart is said to be 7 ft 4.6in (225cm).
Following the reports, Nagawoo Jimaa posted his picture alongside that of Sulemana Abdul Samed on Facebook to make his case.
"Bring him if you want – this guy will not be longer than me," he wrote on Facebook.
Nagawoo Jimaa's Facebook post
Speaking to the BBC, Nagawoo Jimaa said he would be glad to meet Sulemana Abdul Samed in person for the doubts to be cleared.
"From what I see in the pictures, I can say he's not longer than me," he is quoted to have said.
Sulemana Abdul Samed recently visited a local hospital for one of his check-ups where he was told that he was 9 ft 6in (2.89m) tall, a height that would have made him the tallest man in the world.
It, however, turned out that the health facility did not have the appropriate measuring tool, so the height was inaccurate.
Later, a BBC reporter measured him and found him to be 7ft 4in. If the Ethiopian challenger is indeed 7 ft 4.6in, then it makes him taller than Sulemana Abdul Samed.
Reports say some Ethiopians had claimed to be taller than Nagawoo Jimaa but they turned out to be shorter than him.
Hopefully, both Sulemana Abdul Samed and Nagawoo Jimaa will meet up someday for the record to be set straight.
Recommended articles
Here's a simple way to let government pay your rent advance for you in Ghana
Government launches novel National Rent Assistance Scheme
Ghana places 72nd and stagnates on Corruption Perceptions Index
Korle Bu doctors threaten to go on strike over 13th Month Salary arrears payment
Ablakwa reveals more on Rev. Kusi Boateng and how he hosted a lavish 50th birthday party
2 staff of Best Point Savings and Loan jailed 10 years for stealing GH¢1.2m
17-year-old pregnant SHS girl sacked from home is now nursing mother, wants to return to school
Leftover stew was mixed with new one – FDA reveals cause of Yellow Sisi Waakye poisoning
There's no transparency in Ghana's gold for oil agreement — Mahama