'We've been waiting' - Angry patient throws urine at nurses for abandoning him (video)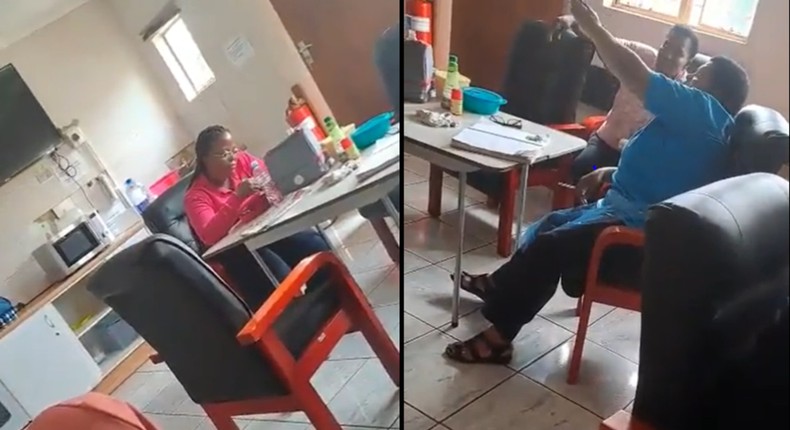 A video which captured the incident has been making the rounds online, with authorities condemning the man's conduct.
The dramatic incident happened at Calcot Dlephu clinic in Tsakane in Ekurhuleni on Friday, January 20, 2023, sowetanlive.co.za reports.
According to the patient, he had spent four hours waiting to be attended but the nurses were sitting in a canteen and gossiping. He expressed concern that the health facility was approaching its closing time while he and other patients had not been attended to.
"It's 3.30 pm now and we have been waiting," the furious patient said before splashing the urine contained in a plastic container on them and hurling the empty container at them before walking away.
The Gauteng Department of Health has condemned the attack on the health workers, describing it as vulgar and unacceptable.
"Irrespective of the complaint the member of the public might be having against the health workers, this cannot justify the attack on them. It is uncalled for and we condemn this vulgar act in the strongest possible terms," Gauteng MEC for health and wellness, Nomantu Nkomo-Ralehoko said, and ordered an investigation into the matter for appropriate action.
She urged the public to exercise civility when they visit healthcare centres, adding that authorities are committed to improving the quality of healthcare delivery.
Recommended articles
Ghanaian bride 'faints' as she sees Joe Mettle performing at her wedding reception (video)
NAM1 appears in court for the 33rd time but his trial hasn't started yet
Ghana today is broke — Mahama
I'll restore hope and bring Ghana's economy back – Dr. Duffour pledges after filing nomination form
NPP has to elect Dr. Bawumia as flagbearer to quash 'Akan party' tag - Aliu Mahama
NDC is just like the false prophet — NPP's Nana Kay
4 students remanded for gang-raping 16-year-old mentally-challenged schoolmate
Female car dealer marries brother-in-law and 2 other men, they share their story (video)
75-year-old woman allegedly sets ablaze sleeping son, daughter-in-law and grandchild