Here is how Rwanda is engaging robots to screen COVID-19 patients
Rwanda has announced that it has purchased five new robots to aid in the fight against the COVID-19 in the country.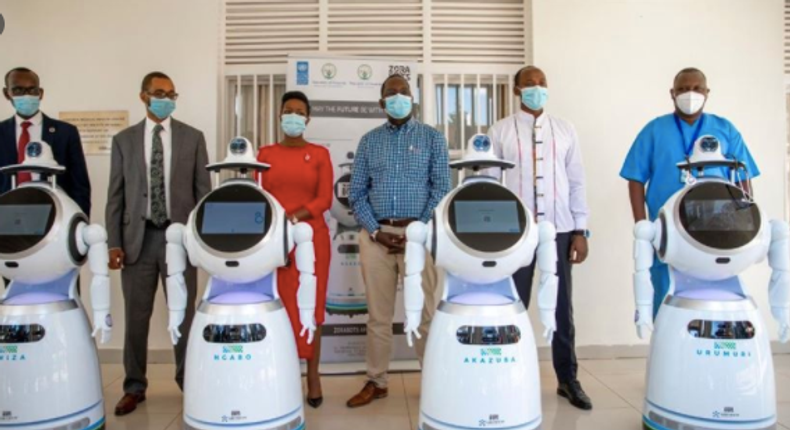 According to the country's Health Ministry the robots can screen 50 to 150 people per minute.
The five anti-epidemic robots, were each given Rwandan names: Akazuba, Ikirezi, Mwiza, Ngabo, and Urumuri.
The robots have been equipped with screening capabilities and will help administer temperature checks, monitor patient status, and keep medical records.
According to tweets from the Ministry of Health's page, the robots have the ability to also deliver food and medication to patient rooms, capture data, and notify officers on duty about detected abnormalities."
Health Minister Daniel Ngamije told BBC Africa, that the country is working on getting more robots that can perform other tasks such as disinfecting public spaces.
The robots are manufactured by a Belgium-based company and also have the capability to alert health workers of abnormalities and warn people who aren't wearing masks, or are wearing them improperly, reports BBC Africa.
Rwanda is the country considered to be at the forefront of technological advancement on the continent.
To date, Rwanda has recorded just under 300 cases with 203 recoveries and zero deaths according to official reports.
Recommended articles
Former NSMQ contestant suffering from bipolar disorder needs help
University of Ghana's 15% academic user fees legal — Dr. Domfe
40 NPP MPs accompany Bawumia to Kpembi by bus for late Jawula's funeral
Fuel prices to drop due to gold for oil deal — NPA to Ghanaians
Veterinary doctor and his team 'fly' as sedated lion suddenly wakes up (video)
Ghana's current economic mess affecting NPP's campaign message for 2024 – Kyeremanten
Asantehene celebrates 1st Akwasidae in 2023
Yagbonwura Tuntumba Boresa I is dead
Jomoro MP, constituents demand justice for West Hills Mall killing