Adorable picture of 'Umbrella Dad' goes viral
A picture of a father holding an umbrella for his son while he himself was getting completely soaked is so adorable it would make your heart melt.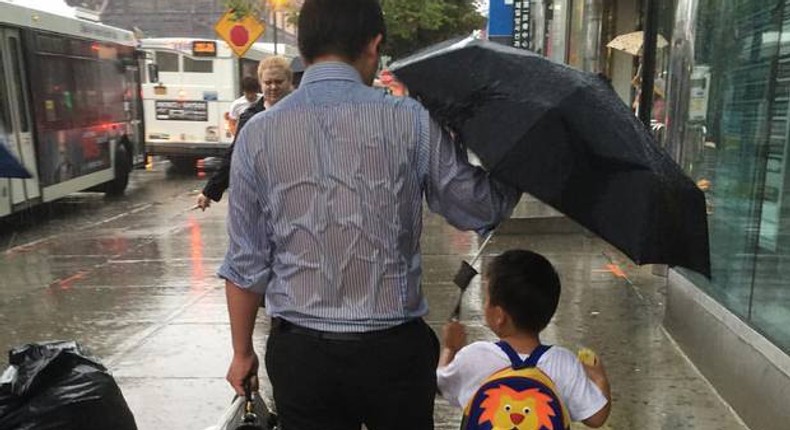 This is why dads are the best.
An adorable picture of a father holding an umbrella for his son in heavy rain on a street in New York while he himself was getting completely soaked has touched the heart of millions of netizens after emerging online last week.
The photographer who took the picture said he took the image because dads 'don't get the credit they deserve'.
The father, who was quickly dubbed "Umbrella Dad" was soon identified as Liu Qiao, a manager from JPMorgan Chase. Liu told reporters that he goes to pick up his four-year-old son, Liu Ruozhuo, at a kindergarten in Flushing after he finishes work at 5 p.m. each day.
"It rained harder when we were walking out of the school gate. As our home is not far away, I didn't take shelter from the rain," Liu recalled.
"It's a parent's instinct to do so, I didn't expect I would have got so many compliments from netizens."
Some netizens questioned as to why Liu didn't hold his kid in his arms. In response he said that it was due to his philosophy on parenting.
"I want him to be able to deal with stuff on his own, so I wouldn't hold him or help carry his bag," Liu said. "But he's still young. I didn't want him to catch a cold."
"The viral picture will not change our lives, but I will keep doing my best to give him the best and let him find what he really wants to do by himself," Liu said.
More than six million people have viewed this picture in just two days.
"But you see, dad is doing more than keeping him dry," one of the commenters posted. "He's teaching him how to put others before himself."
This picture serves as a touching reminder of the sort of sacrifices parents make every day — when there's no one around to take a photo.
JOIN OUR PULSE COMMUNITY!
Recommended articles
Jesus Ahuofe to reappear in court today over fake Shatta Wale death prophecy
3 arrested in Takoradi for faking a kidnapping incident
Tamale chief lauds McDan for bringing dev't to the north
'The Benz has been impounded' - Ghana Police gives details on arrested stunt driver (VIDEO)
Government bans use of tricycles on highways
Benz driver who drifted his car in traffic arrested by Ghana Police (VIDEO)
'Akufo-Addo has deepened presidential accountability with regular radio interviews' - Adom Otchere (Watch)
Open your eyes, Akufo-Addo's record is unmatched – NPP tells Oti chief
Akufo-Addo launches 'Clean Your Frontage' campaign towards making Accra cleanest city in Africa