Artwork by Pimpin wins maiden edition of Ghana Arts and Culture awards
Julian Selby, the pencil artist who goes by the name Artwork by Pimpin on his artworks and social media, has won the 2019 edition of the Ghanaian Visual Artist of the Arts and Culture awards.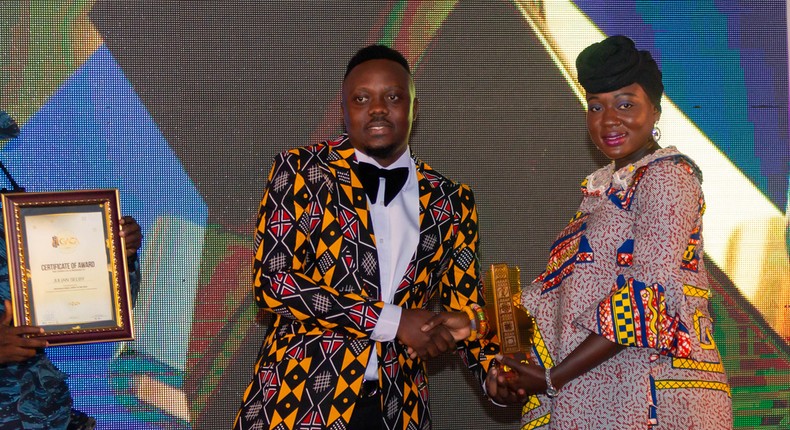 He won the award with 75 percent beating his contenders in the category.
Pimpin won the award with a masterful hyper-realistic pencil portrait.
It is almost impossible to distinguish the drawing from a photograph, so finely is it created, and he appears to have a huge career ahead as a portrait artist.
Judging panel Mrs. Edna Janet Nyame, Executive Director of the Ghana Arts and Culture Company, told Pulse.com.gh that his work has established him "as one of the most talented artists of her generation, and one whose skill could see him become one of Ghana's foremost portrait artists of the future."
Pimpin is popular for using only graphite pencils to create portraits so realistic you'll have a hard time believing they aren't actually photographs.
His first big break came when his impressive drawing of the current President, former Presidents, and celebrities went viral.
Pulse Ghana
The event is the maiden edition, in partnership with the National Commission on Culture (NCC), the Ghana Tourism Authority (GTA), the National Folklore Board and Tourism Society of Ghana under the Ministry of Tourism, Arts and Culture.
Recommended articles
We can work together to achieve our goal - Ato Forson
NDC reasserts its position on the need for Akufo Addo to downsize gov't
Six perish in gory Akuse accident
Mahama expresses disappointment in minority for approving ministers
Eschew bitterness and support the new leadership - Gyampo slams NDC MP's
Justices George Koomson and Ernest Gaewu approved by parliament as Supreme Court judges
KT Hammond, Bryan and other new ministers approved by parliament (How MPs voted)
NDC MPs reject two justices nominated to the Supreme Court
Parliament suspends sitting over disagreements on how to vote for Supreme Court and Ministerial nominees