Ghanaian student rejects $40k High School scholarship she won
Ghanaian student, Verda Tetteh applied for a $40,000 merit scholarship offered to seniors by her high school in Fitchburg, Massachusetts.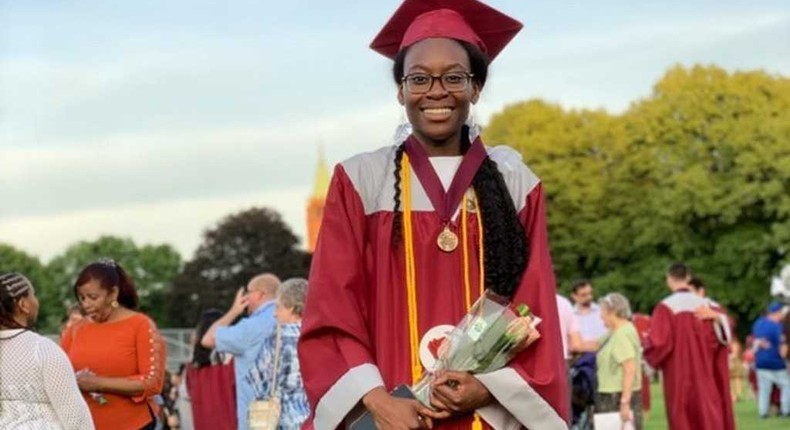 And she got it. However, Verda did something that shocked her teachers, colleagues and administrators.
She rejected the scholarship and insisted that it should go to a student going into a community college.
During her graduation ceremony, Verda Tetteh was unsurprisingly announced as the winner of the $40,000 scholarship, which she accepted and rejected it ten minutes later.
"I am so very grateful for this, but I also know that I am not the one who needs this the most," Ms. Tetteh said, her voice trembling. "I would be so very grateful if administration would consider giving the General Excellence scholarship to someone who is going into community college", she announced on stage.
"When I said the words, when they came out, I knew they were the right thing to say," she told local reporters later. "It was the right thing to do."
Ms Teteth, 17, had already secured a scholarship from Harvard, which had agreed to pay her tuition and room and board. Her 4.9 G.P.A. had qualified her for other scholarships that would cover college expenses.
Verda was 8 years old when she moved from Ghana to Fitchburg, a city of about 40,000 people, 50 miles west of Boston.
Her mother, Rosemary Annan, was working 80 hours a week but decided to pursue an associate degree in science, hoping it would help her get a job that would support her four children and help reduce her hours.
"She realized that there is a lot of opportunity if you're educated," Ms. Tetteh said.
Ms. Tetteh, plans to major in chemistry and wants to become a doctor, said she would like to start a separate scholarship for students who are immigrants and cannot afford college.
JOIN OUR PULSE COMMUNITY!
Recommended articles
Police arrest 17-year-old boy for having sex with a cock
ECOWAS and Media Foundation for West Africa sign partnership to enhance media freedom
Thank you for having my back; I always have yours - Dampare to Security chiefs
None of our mineral resources has developed Ghana - Lawyer Jantuah
Senya Bereku residents clash with soldiers over disputed land
Ghana blows $2.6 billion to import 'Obroni Wawu', sugar and other products in 2021
Akufo-Addo's government has shown to be a listening one – Oppong Nkrumah
Good-for-nothing Special Prosecutor must get corrupt cases done — NPP Youth Organiser
Shalimar Abbiusi's parents in tears, request her release, claim she's been kidnapped