Police dispatch rider chasing Toyota Corolla driver crashed to death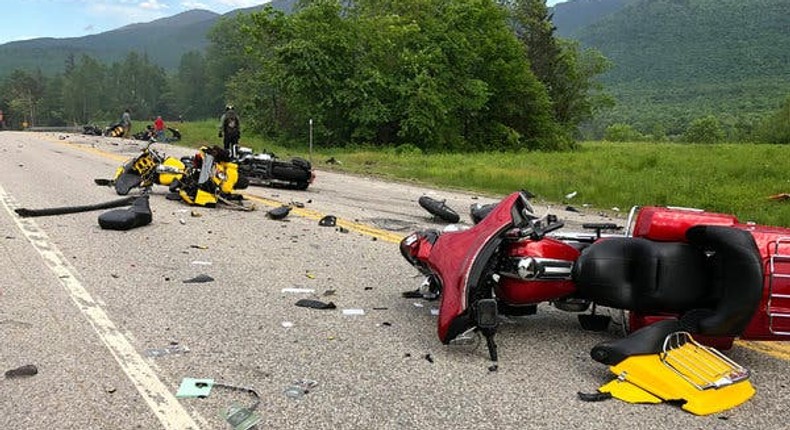 The sad incident occurred on the night of Monday, March 20 at Pokuase in the Ga North Municipality of Accra.
According to Daily Guide, the Dispatch Rider was identified as L/Cpl. Mustapha Mohammed.
The news outlet reports that he was pursuing a Toyota Corolla vehicle on his motorbike from Ofankor. However, upon reaching Pokuase, the driver slowed for the officer to approach and then suddenly hit him, causing him to fall under a moving truck which crushed him to death.
After hitting the officer, the driver of the Toyota vehicle sped off and no detail of the car was taken.
The motorbike the police officer was riding on got badly mangled while his helmet was also crushed by the truck.
The officer who was formerly with the Rovers Unit reportedly suffered a head injury leading to his death.
Unconfirmed reports say he was the dispatch rider assigned to Information Minister, Kojo Oppong Nkrumah.
In another crime-related story, an Accra Divisional High Court has sentenced members of the Western Togoland separatist group to 5 years each in jail.
The five members will spend a total of 25 years in jail.
They were arrested by the police in September 2020 after they blocked the Aveyime road from Accra with sand and attacked the Aveyime and Mepe Police stations in the Volta Region.
The High Court convicted the five accused persons on March 17, after finding them guilty of offences contrary to the Prohibited Organisations Act 1976 (Supreme Military Council Decree/SMCD20).
The convicts were arrested in 2020 as part of members of the Western Togoland Foundation who attacked a police station at Aveyime, freed inmates, stole ammunition, blocked roads leading to the Volta Region and shot a police officer.
Recommended articles
Truck driver speaks about how road crashes can be stopped in Ghana
Savannah Region: 70 arrested after renewed clashes at Lukula and Mempeasem
Nogokpo traditional leaders give Agyinasare 14-day ultimatum to appear for questioning
Akufo-Addo must declare a state of emergency over Ghana's economy – Kwame Pianim
Retired teacher ordered to pay 2k fine, sheep… for trying to sleep with friend's wife
Nana Addo receives highest international diplomacy award
Let's work together for peace in Bawku — Bawumia
Mahama has the ability to tackle Ghana's economic challenges — Stan Dogbe
Let's try and co-exist peacefully – Mahama to Gonja and Mamprusi communities