Police officer who shot girlfriend in Kumasi formally charged with murder
Inspector Ahmed Twumasi has been charged with murder by the Asokore Mampong District Court in the Ashanti Region when he appeared in court on Wednesday, May 31, 2023.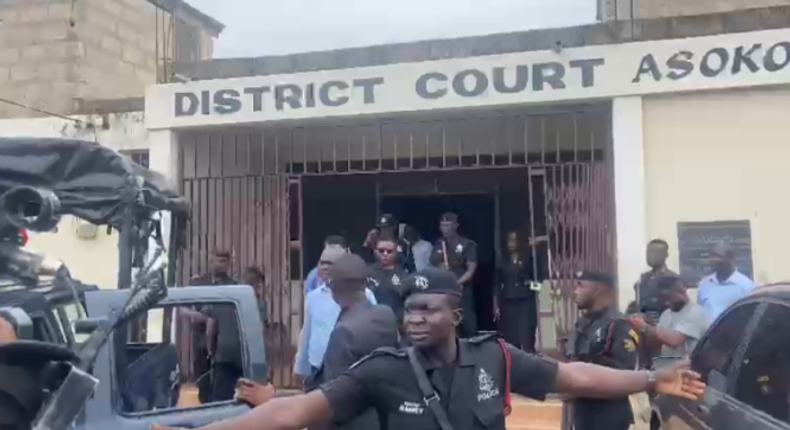 The police officer is facing trial for allegedly killing his girlfriend, Victoria Dapaah.
26-year-old Victoria Dapaah also known as Maa Adwoa was allegedly shot by her boyfriend, Inspector Ahmed Twumasi on April 20, 2023, at Adum, a few meters away from her house.
The suspect during his first court appearance, confessed to committing the act but insisted that it was not intentional.
But on his second appearance in court, Inspector Ahmed Twumasi has been formally charged with murder as the prosecution has received advice from the office of the Attorney General.
During the court proceedings, the head of legal and prosecutions in the Ashanti Region, ACP Kofi Blagodzi assured family members of the deceased present that the police administration is committed to ensuring that justice is served in the matter, as the office of the Attorney General has given its advice and the committal processes will commence during the next hearing.
The case has been adjourned to a later date for further investigations and evidence gathering.
The incident has sparked outrage among members of the community, with many calling for justice to be served. Domestic violence and abuse have been on the rise in recent years, and this case highlights the need for more awareness and action to prevent such tragedies from occurring.
Meanwhile, ACP Kofi Blagodzi who spoke to the media after the court proceedings said:
"This is a very difficult moment. But as I indicated, now that the advice has come, we shall proceed with the trial. The police have taken a serious interest [in this case]. We are taking very much interest in this matter. The IGP wants to deliver, and the police have also delivered. We have given full assurance that this matter will travel to its last minute''.
Recommended articles
122,275 personnel for 2023/2024 deployed for service -NSS
Tensions flare as Ghanaians in London stage dueling protests over bad governance
Kufuor raises concerns over factionalism within NPP
Jean Mensa, Bossman Asare pose biggest threat to Ghana's democracy – Sam George
Election 2024: Reject Alan's empty political tactics — NDC's Afaglo
Health Ministry summons management of Korle-Bu over GH¢765 cost of dialysis
Korle-Bu to review GH¢765 cost of renal dialysis
Factionalism is dividing and killing commitment in the NPP – President Kufour
Gender equality: Stop the bias against women in the newsroom — Gifty Anti