Is this Kwame Nkrumah's Ghana?
Pulse Ghana Writer Portia Arthur is hurt by the country's current state, and wonders if Kwame Nkrumah, whose birthday is being celebrated today, would be proud.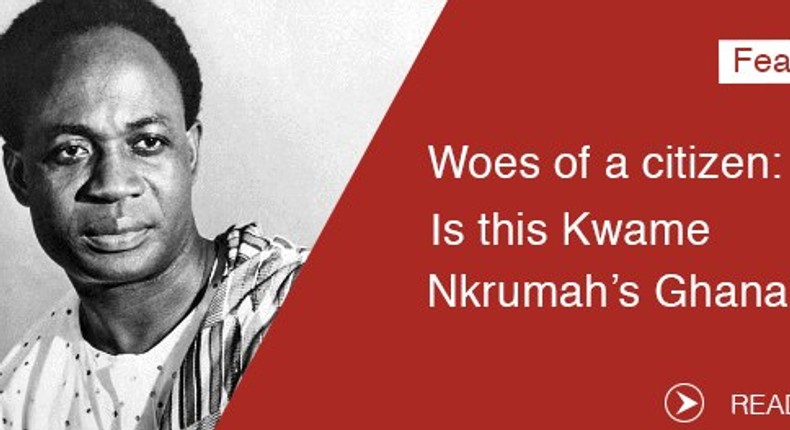 "God bless our homeland Ghana."
I am a proud Ghanaian who hails from a remote village in the Ashanti Region.
Every year, Ghanaians commemorate Founders day which falls on the the birthday ( September 21) of Dr. Kwame Nkrumah and educate the youth on how his determination, perseverance and true spirit of patriotism helped save Mother Ghana from British rule.
Growing up, I always wondered how Ghana would have been now if Osagyefo were still alive. He fought effortlessly and wholeheartedly for the then Gold Coast (now Ghana) to gain independence on 6th March 1957 primarily so that Ghanaians could live in peace and love with many developmental projects which would improve our standard of living.
I believe he wanted the optimum best for this country as the history about his life and legacy says but I'm asking Ghanaians: 'Is this current Ghana we are living in the same one that Kwame Nkrumah and the Big Six wanted us to live in when they were brutally battling our colonial masters?
Our lands have been blessed; it supports the production of cocoa and other agricultural produce. We are the second largest exporter of cocoa yet the ordinary Ghanaian can't even afford to buy a bar of chocolate. If our businessmen don't import other brands of chocolate, I don't think the average child will ever get to taste chocolate before the end of the year.
During Kwame Nkrumah's era, for instance, there was a one student-one room policy at our public universities but what do we see now? True, we have a much larger population these days but why did we not expand our capacity to accommodate through all those years of growth?  Now, our future leaders even in the secondary schools are sleeping in dilapidated facilities while basic level schools continue to be inhabited under trees, pupils walking barefooted to school.
I don't know if some villages will ever get asphalt overlay. Months and sometimes years of hard work goes down the drain when our honourable farmers watch their produce rot because of bad roads to transport their produce to the urban centers. You and I, then expect the prices of food stuffs to be affordable.
After 59 years of independence, we are still experiencing 'dumsor'. It is absurd, to say the least. Did we fail to plan as a country or we are merely victims of uncontrollable circumstances? Out of the millions reasons, 'dumsor' is a major setback for the country. Communication, the least among the effects of 'dumsor', is always  impeded.
Even before a child can learn how to speak and write, they are taught about cleanliness through pictorial drawings at school and practical demonstrations at home. Yet the adults who are supposed to know better ironically have made littering a culture around the entire country.
After a few minutes of torrential downpour, the country can literally be compared to an island in the middle of the sea. To say we are flood-prone would be an understatement. Floods have become second nature even in urban centers like Accra, a whole capital,  due to our bad sewage and drainage systems.
Meanwhile, communicable and dirt related diseases are 'feeding' on our brothers and sisters as a result of our irresponsible acts.
Grieving has turned to merry making and helping one another to organise funeral of their beloved ones has become money making. Coffins, the once least expensive thing has turned into a lucrative product on the Ghanaian market.
Whenever rain 'catches' me at the stalls of our market centers, I weep for my life. We all know the state of our markets; wood construction takes 90 percent of it. When it pours , the lives of our market women are endangered and their produce are washed away by the rain. The place becomes muddy and the least slip can land someone at an Intensive Care Unit. Remains of agricultural produce, polythene bags and other waste products are heaped in our market centres which ideally are supposed to be as clean as wool. Are they selling healthy food stuffs or highly contaminated consumables?
Attending a hospital or clinic in Ghana seems to be like shopping at the boutique; it is limited to a fraction of the populace; the well to do. Even when your health insurance card secures you an appointment with a doctor; can you pay for the overly priced drugs?
If classes or distinctions were not important, students won't be graded. I heard that a customer can spend ten times his daily minimum wage when he enjoys some Ghanaian dishes outside his own kitchen in one of our locally owned 3 class restaurants. Of course, a poor man has no choice than to restrict his movement from work to home, no adventure or thrilling experience because his spending power is meagre.
We all know the increase in demand for something triggers its price increase. In Ghana, this price increase is always so substantial. Prices of items in this country are soaring higher than the eagle itself.
These days parents and their children can't watch movies together anymore because of the prevalence of uncensored nudity, violence and provocative language. Children's educative programs are very scarce on the TV; can we get 'appropriate' telenovelas for kids too? Considering how mainstream ones seem to have entranced adults.
Social media was basically to enhance communication and broadcast news information. But Ghanaians, unsurprisingly, have abused it: now it is a terrain of  all sorts of harmful fun, bullying, explicit content and many other things that retard our growth.
Technological devices are gradually eliminating our sense of Africanism and patriotism. Students are using calculators for every arithmetic; some women are blending plantain and cassava to form 'fufu'.
What happened to our resplendent traditional smock? Our beautiful knee-level 'kaba and slit'? While we are busy fidgeting with our mobile devices for style inspiration from the whites, these same whites are sewing our indigenous African print, delighting in its colour and power. The irony is profound.
We can do better, as far as the love and harmony that exist between us as Ghanaians is strived for. Fighting among ourselves and killing each other over lands and power; is it really worth it? No one gets buried with these earthly possessions; so why all the jealousy and backbiting within a population supposed to be channeling its energy into development?
Will Kwame Nkrumah be proud of us today after everything he sacrificed?
JOIN OUR PULSE COMMUNITY!
Recommended articles
CEO Pryme supports East Legon fire victims
VIDEO: New Juaben Traditional Council Installs Nana Kwaku Boateng III As Paramount Chief
Thief forced to eat a full bunch of unripe plantains (video)
We fought to make Akufo-Addo President, but we're hungry – Machoman cries (video)
Your Arise Ghana demo cannot go beyond 4pm – High Court directs
"Delay isn't denial" - Woman starts studying law in 2011, finally makes it in 2022
Ghana Drunkards Association launches E-Drink app to save members' lives (video)
Conflict of interest scandal hits Akufo-Addo's government, Deputy Sanitation Minister fingered
Akufo-Addo has received over ¢500billion in grants yet he has nothing to show for it – Sammy Gyamfi