Public transport fares increase by 10% effective today
Ghanaian public transport users will pay 10% more on their previous fares effective today.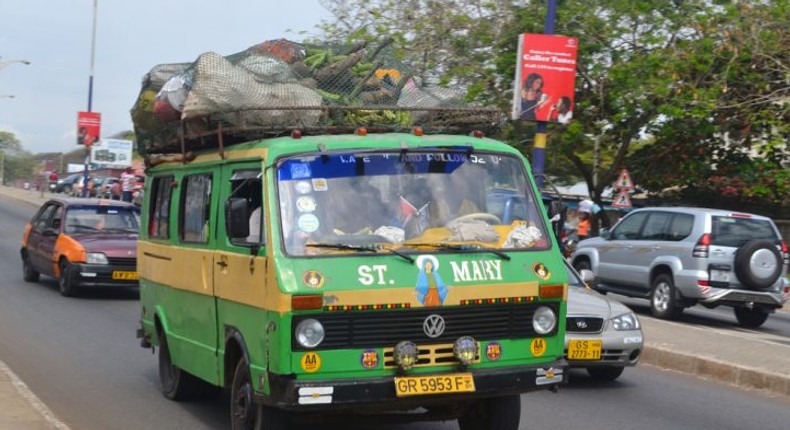 The increment was announced last Tuesday by the Road Transport Operators to cover intra-city transportation and inter-city or long-distance travels.
In a statement from the Ghana Private Road Transport Union (GPRTU) and the Ghana Road Transport Coordinating Council announcing the increment, it said the increase is "to accommodate predominantly an increase in fuel prices."
The increases were brought on by the mid-year budget review and subsequent Parliamentary approval which saw an upward adjustment in the Road Fund Levy (RFL), the Energy Debt Recovery Levy (EDRL) and the Price Stabilization and Recovery Levy (PSRL).
Anytime increment in transport fares have been announced controversies have ensued in public vehicles. Passengers are sometimes hesitant to pay the new fares while some conductors overcharge until they are certain of the amount.
But the Public Relations Officer for the Transport Ministry, Gloria Holm-Graves has urged both the Transport Operators and the commuting public to cooperate on the new fixtures.
"After meaningful discussions with the transporters, it was agreed that we have a 10% increment in transport fares. The Ministry is appealing to all transporters and the general public to comply with the new directive. The transporters have provided a chart and it shows how much the 10% would be with different fares. So for instance in situations where the commuter pays GH¢1, you may have to add 10 pesewas to make it GH¢1.10," she said.
Find below the new transportation fares
Pulse Ghana
Pulse Ghana
Pulse Ghana
Pulse Ghana
JOIN OUR PULSE COMMUNITY!
Recommended articles
Top 5 largest economies in East Africa ranked
NPP Parliamentary Primaries: Results so far
36-year-old painter wins GH¢6 million bet, flies in private jet to Accra to receive it
Top 10 African cities with the highest purchasing power
Top 10 African countries leading in attracting and retaining talents
GES to revise first-year reopening date for SHS
Captain Smart hasn't resigned - Onua TV denies earlier reports
10 African countries with the lowest GDP projection for 2023 as the year rounds off
Thieves forced to drink crates of alcohol they stole from a store [video]