Do you know what this image is?
Look at this image, and what do you see?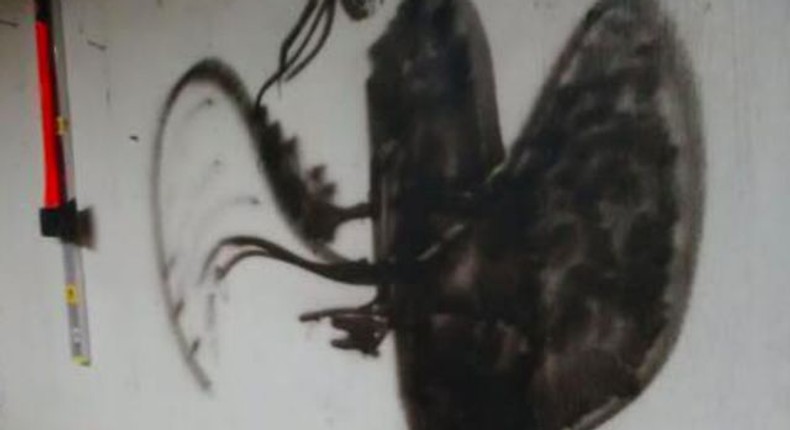 Have a look at this image. What do you see? According to LifeHack.com only 1/100 people will get it.
But if you can't get it, then try cover over the dark area of the image.
Some people have reported they spent hours staring at it. It was posted by Facebook user Savannah Root in April.
She wrote: I stared at this picture for An hour trying to figure out what it was, once you figure it out comment below, please don't ruin it for anyone... And please don't comment on this post what it is... Let's see if it takes you all hours like it did me" the image has been shared almost 8000 times.
If you want to give up, and find out what it really is, then scroll down.
Ok – it's a man with a cowboy hat. Not a dead butterfly or a bird as many may think!
If you see it right away then studies show this means you are a highly creative person.
Lifehack reports scientists have been able to conduct certain researches to catch the creative process in order to analyse the distinctive features that creative people have. They have found that creative people tend to use much bigger parts of their brain during the thought process.
This means they are able to use more associations and memory when trying to decode something – like an image.
Don't despair if you didn't get it. That just means that you process new information in a different way, usually in a slightly more formal way, following certain known rules and associations. Those who are more creative have an "outside the box" kind of thinking with more options to choose from.
JOIN OUR PULSE COMMUNITY!
Recommended articles
Sista Afia sets tongues wagging with hot and wild bikini photos
Inside the most expensive school in Ghana where kindergarten costs GHc176K a year
Top 10 African countries with the most expensive gas prices in 2022
GIS Prom '22: Here are all the photos you missed
Top 10 African Countries with the highest inflation rates in 2022
GIS Prom: Here's how much you need to pay to enrol your child at GIS
'Jehovah see house' - Nollywood actress in shock as she tours Jackie Appiah's mansion
Here are 5 African countries with the best roads
Top 10 most valuable companies in Sub Saharan Africa, May 2022