Circle Interchange strong; reject collapsing claims - Roads Ministry
A civil engineer is reported to have said on social media that the Circle interchange which is currently under construction faces imminent collapse in the coming weeks as a result of the weak pillars erected for the three tier interchange, which have developed massive cracks and have started sinking.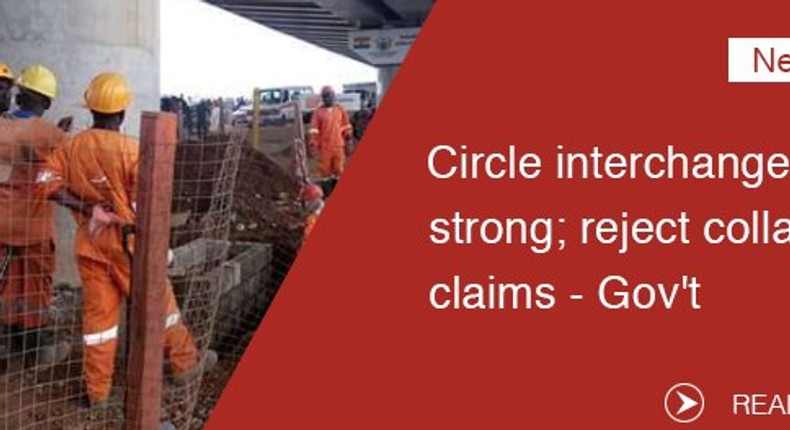 The Ministry of Roads and Highways has denied claims on social media that the Circle interchange is facing imminent collapse.
But a statement by the Roads Ministry stated that the "project has undergone all the necessary structural integrity tests and has proven to be structurally sound."
"Again the so-called cracks on the piers are untrue and that the piers erected for the projects are very strong, technically and physically.
"We wish to assure the general motoring public that the Kwame Nkrumah Circle interchange is very safe for use and does not pose any danger to its users," the statement said.
"We appeal to the general public to desist from making unsubstantiated allegations that has the potential to create fear and panic to road users and rather seek necessary clarification from the relevant and appropriate quarters where they have concerns."We shall ensure that the Ghanaian taxpayer gets value for the investment made in the project," the statement added.
JOIN OUR PULSE COMMUNITY!
Recommended articles
'BBTitans': 2 housemates break one of Big Brother's greatest rules
Ghana's gift to the world: How Idris Elba served the Ghanaian kente at Akwasidae
Veterinary doctor and his team 'fly' as sedated lion suddenly wakes up (video)
65th Grammy Awards: Dentaa Amoateng sells Ghana to the world with the perfect kente outfit
Christian Atsu reportedly missing under rubble after earthquake in Turkey
Ibrahim Mahama to pay for treatment of former NSMQ contestant suffering from bipolar disorder
Christian Atsu not found yet - Hatayspor Vice President
4 sexual fantasies women often have
Video: Christian Atsu's family sings praises to God after footballer's rescue