22-year-old lady forced into prostitution says she slept with over 400 men in 5 months
Three young ladies who were tricked from their village and lured into prostitution by their elder sister have been rescued.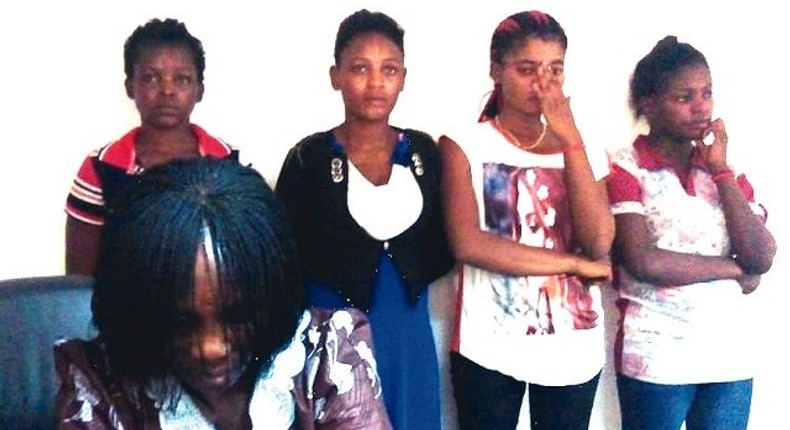 A 22-year-old victim of human trafficking,
Love who was rescued from the brothel, said she and her 23-year-old sister, Happiness, were lured into prostitution by their eldest sister, Mary, 32, who had also allegedly tricked a cousin, Joy Lawrence, 25, into coming to stay with her from their home town in Ogoja, Cross River State, with the promise of good jobs and a chance to make a decent living.
But by the time they came to meet up with their big sister, they discovered that they had been trapped.
It was gathered that the cousin, Lawrence and another victim, had fled the brothel when they could no longer bear the pain they were subjected to.
Lawrence managed to get someone who brought her to the Lagos Zonal Headquarters of the Nigeria Immigration Service (NIS), whose officers stormed the brothel and rescued other victims.
The evil sister, Mary, as well as the owner of the hotel, Rose Akpojaro, an indigene of Warri, Delta State, were arrested.
Narrating her ordeal, Love said the prostitutes charged between N500 and N700 per round of sex, paid N200 per day for hotel rates.
"I was learning tailoring in the village. My sister told me she could help me get a job in Lagos; she didn't tell me that it was prostitution I was coming to do. After we got to Lagos, she said we should do this (prostitution) job so we can make money to be able to finish my craft as a tailor.
I sleep with about four men in a day and each of them pay me at least N500."
Happiness, on her part, said she was not aware she had been trafficked until she arrived in Lagos and was introduced to prostitution.
"I didn't go to school and I have not learnt any trade. I came to Lagos a few months ago. My sister didn't tell me this was what I was coming to do in Lagos. She said it was a good job."
Lawrence who fled the hotel, said she was told she would be trading when she left their hometown.
"I ran away because I didn't like the work. I don't want to do it again. I never knew this was the job."
The prime suspect, Mary, said she did not want to bring her relatives into the prostitution trade but when they kept putting pressure on her to bring them to Lagos, she bowed to their demands.
"I came to Lagos with a friend in 2014 and my friend introduced me to this job. We were first using a hotel called Happiness Hotel before we moved to Morning Star Hotel in Sango Ota.
When I travelled to the village, my sisters started disturbing me that they wanted to follow me to Lagos to go and work.
When they continued to disturb me, I decided to take them with me; but I didn't tell them I was into prostitution. I told my mother I was working in a beer parlour.
Each of us makes N2,500 to N3,000 daily. We sleep with an average of three to four men and they pay between N500 and N700. I have already saved N340,000 for them since January till we were arrested on May 16."
The Assistant Comptroller General of Immigration, Musa Maza, who handed over the victims to the National Agency for the Prohibition of Traffic in Persons and other related matters, said the suspects would be prosecuted at the end of investigations.
"This is a human trafficking case in the form of enslavement and prostitution. The victims were forced into sex against their wish. Two of them actually escaped.
The whereabouts of one is unknown, but the second victim contacted someone who brought her to the immigration office."
JOIN OUR PULSE COMMUNITY!
Recommended articles
3 things you shouldn't do for a woman you are not married to
Why some people refrigerate their condoms before use
Top 10 most rewarding African countries to do business in 2023
Kofi Kinaata's mum melts hearts as she sings rapper's 'Thy Grace' word for word
Abena Korkor and Shatta Wale share kiss at Medikal's album listening [VIDEO]
WAEC threatens to delay marking of BECE, WASSCE over unpaid GH33 million
Challenges mount for Nigeria's $13 billion Trans-Saharan gas pipeline amid Niger coup and financial woes
Why masturbation can be harmful for you
African borrowing costs surge in the international market as a result of attractive US rates
Trending
Why some people refrigerate their condoms before use
3 things you shouldn't do for a woman you are not married to
Kofi Kinaata's mum melts hearts as she sings rapper's 'Thy Grace' word for word
Top 10 most rewarding African countries to do business in 2023
Africa's food insecurity to be non-existent in the next 5 years - AfDB
Shatta Wale accepts 'big brother' Sammy Flex's advice to cancel his Freedom Wave Concert
'I started using the pill after sex because I don't trust men' - Single woman
4 places you should never have sex
WAEC threatens to delay marking of BECE, WASSCE over unpaid GH33 million