Supreme Court erred in allowing Amidu to examine me - Woyome
The Supreme Court granted an application by Mr Amidu to orally examine Woyome.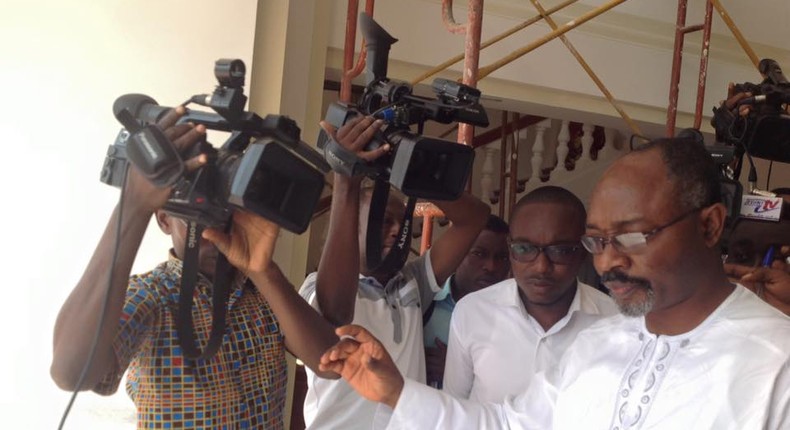 Businessman Alfred Agbesi Woyome has said the
According to him, he is "determined to pay the money back", adding that he is doing so "under duress."
"I am paying back the money under duress. I feel that my rights are been trampled upon and feel persecuted," he noted.
Addressing the press at International Conference Centre in Accra Friday, he said, "I have been going to court; there were times that there would be two cases at the same time. This is the Attorney General who was pursuing me and doing all these against me, today because of the convenience, some people are saying that I am conniving with her, how can i be in connivance with her."
The judge Justice Enin Yeboah ordered the Woyome to appear before the court on November 24, for the examination.
Justice Enin Yeboah in his ruling said the application was granted because there was no formal evidence of execution of the courts order for the money to be retrieved hence the decision.
But Woyome said, "I wrote the cheque without writing who it is for because I was confused who the recipient should be."
"Alfred Woyome is determined to pay. Alfred Woyome has arrived at a payment structure with the Republic of Ghana through its constitutionally mandated Attorney General and Alfred Woyome will pursue that by God's grace to make sure the orders of the courts are respected," he added.
JOIN OUR PULSE COMMUNITY!
Recommended articles
Sista Afia sets tongues wagging with hot and wild bikini photos
Inside the most expensive school in Ghana where kindergarten costs GHc176K a year
Top 10 African countries with the most expensive gas prices in 2022
'Jehovah see house' - Nollywood actress in shock as she tours Jackie Appiah's mansion
Cheddar's son flaunts expensive Richard Mille watch at GIS Prom
GIS Prom '22: Here are all the photos you missed
Here are 5 African countries with the best roads
I'm sorry for accusing my son of assault - Tereo Marghuy
Police did not fire live bullets at Islamic Senior High School students – Ministry of Education