Pensions will not be taxed - Finance Ministry
Finance Ministry in a statement said Seth Terkper never said pensions are going to be taxed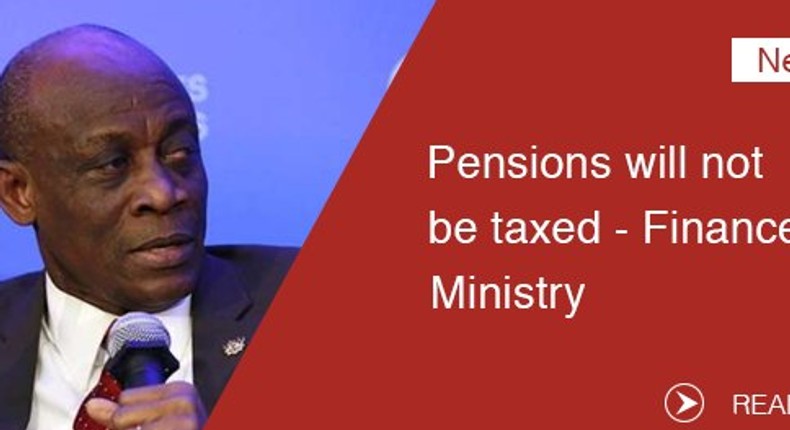 The Ministry of Finance in a statement has said  Minister Seth Terkper  never said pensions will be taxed.
The new tax Act 896, 2015, which has sparked major debates with many accusing government of over taxing Ghanaians is an unconventional means to raise more revenue.
Addressing a gathering at the Stanbic Bank-Daily Graphic Executive Breakfast Meeting  Seth Terkper was quoted as saying the "new tax law and it implications the finance minister said "t's a thorny one because you are exiting. But remember that as you make your social security contributions, they are exempt from tax even though it is part of your income.\
Perhaps we will have to exempt a certain level of income on the pension so that those who are fortunate enough to make fat pensions they may pay a little tax," Terkper said.
But a statement from the ministry said government does not intend to tax the pensions of Ghanaians.
The statement also said the minster's speech at the Stanbic Bank -Daily graphic breakfast meeting was misconstrued.
It said Terkper only sought to  "explain the philosophy of the taxation of pensions adopted generally in literature and in countries that tax pensions."
Meanwhile President Mahama's twitter account tweeted that government will not introduce new taxes.
JOIN OUR PULSE COMMUNITY!
Recommended articles
Court orders lady to pay $80,000 to man for dumping him after he paid her school fees
Actress Benedicta Gafah ties the knot
Guest house boss shoots customer for complaining about malfunctioning TV
10 trending kente styles that took over the 'gram in January
German firm invests Sh350 million in Kenya to make the country a leading distributor of its product
East Africa continues to experience an impressive intra-trade growth trajectory
CHAN 2022: Ghana awarded 3 points, 3 goals due to Morocco pull-out
Missing twins saga: 37 Military Hospital apologises to couple …claims scans were incorrect
Police arrest 34 prostitutes in Tema, court grants each one GHC5k bail