Today's Front Pages
Here are today's newspaper headlines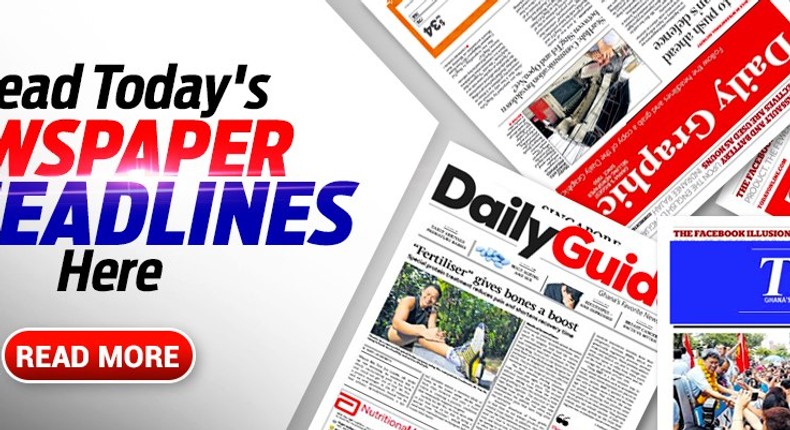 VOTERS REGISTER FLAWED; NDC, NPP CONCUR BUT DIFFER ON HOW TO CORRECT IT
The two main political parties have come close to a consensus that the existing voters register may be flawed but the method to use in order to obtain a "credible register" is unresolved.
NEW FACES EMERGE AT PPP CONVENTION ON SATURDAY
New faces are expected to emerge an national leaders of the Progressive People's Party (PPP) when it holds its National Convention in the Western Regional capital, Takoradi, Saturday.
INDIA TO SUPPORT AFRICA WITH 10B
India and Africa renewed their relations at a massive gathering of leaders in New Delhi Thursday, where Prime Minister Shri Nerandra Modi announced his country's decision to raise the level of support to Africa with a concessional credit of $10 billion over the next five years.
NPP, NDC SPLIT OVER NEW VOTERS' REGISTER
Various political parties and civil society organizations in the country yesterday took turns to defend their positions on Ghana's problematic voters' register. The NPP and NDC stuck to their entrenched positions of new register and cleaning existing one respectively, as contained in their respective proposals for addressing the issue ahead of the 2016 elections.
The Criminal division of an Accra High court Thursday acquitted and discharged Bishop Daniel Obinim, founder of Godsway International Ministry.
NDC MEMBERS TEAR VOTER REGISTER IN TESHIE
The Ledzokuku Krowor constituency office of the National Democratic Congress was in a chaotic situation Thursday when some aggrieved party members destroyed its register meant for exhibition.
POISON ON SALE; GREED PUSHING TRADERS TO DO THE UNTHINKABLE
The issue of adulterated food products on the Ghanaian market is not only peculiar to palm oil, as research indicated that several other foods are heavily compromised.
AKASTI NORTH RESIDENTS SHARE WATER WITH CATTLE
Akasti North in the Volta Region has seen an increase in water-related diseases over the past years resulting in the death of some residents, majority being children.
HASSAN AYARIGA THREATENS TO QUIT THE PNC
The aspiring presidential candidate of the Peoples National Convention, Dr Hassan Ayariga says he will quit the party if its national delegates congress votes to retain the present crop of party leaders.
MINISTRY REJECTS PLEA TO POSTPONE BAN ON LIGHT PLASTICS
The Ministry of Environment, Science and Technology has rejected a plea by the Ghana Plastic Manufacturers Association to reconsider the planned ban on use of light plastics from November 1, 2015.
PPP HOLDS CONVENTION TOMORROW IN TAKORADI
The Progressive People's Party has argued out that an effective national identification system will clear the electoral roll of flaws.
VOTERS REGISTER SAGA: 'NATIONAL ID WILL CLEAR FLAW'
Progressive People's Party will on Saturday October 31, 2015 hold its National Convention to elect national officers to run affairs of the party for the next four years.
PPI BOOST FOR INFLATION INTEREST RATES
Producer prices continued to slide in September which points to a tame inflation that could help to argue well against interest rate increase next month.
FERTILIZER INSURANCE FOR FARMERS
A mobile micro insurance service provider – BIMA is working out a model that will see rural farmers across the country benefit from insurance packages when they purchase bags of fertilizer.
GOVERNMENT TARGETS CYBER CRIME
The Minister if Communications, Dr Edward Omane Boamah, has said the ministry will soon present a national cyber security policy and strategy to Parliament after cabinet consideration.
JOIN OUR PULSE COMMUNITY!
Recommended articles
9 most expensive African countries to rent a one bedroom apartment, based on property price to income ratio
Top 10 African countries with the highest corporate tax rates
Here are the top 10 cities in Africa where the most rich people live
Ras Nene: Dr. Likee 'cries' as Kumawood actor Osei Tutu reported dead
The metaverse could contribute $40 billion to sub-Saharan Africa's economy in its first decade, according to a new report
'Fame means nothing to this man' – Ghanaians react as Kendrick Lamar plays football at Jamestown
Sperm colour: Here's why your semen colour changes and what it means
Kumawood actor: Osei Tutu dies aged 51
How the Liberian war caused my parents' divorce, changed our lives – Gloria Sarfo recounts