Dangote plans 'first private crude oil refinery in Nigeria'
He is planning to set up a $12 billion oil refinery with a capacity of 650,000 barrels a day in Nigeria.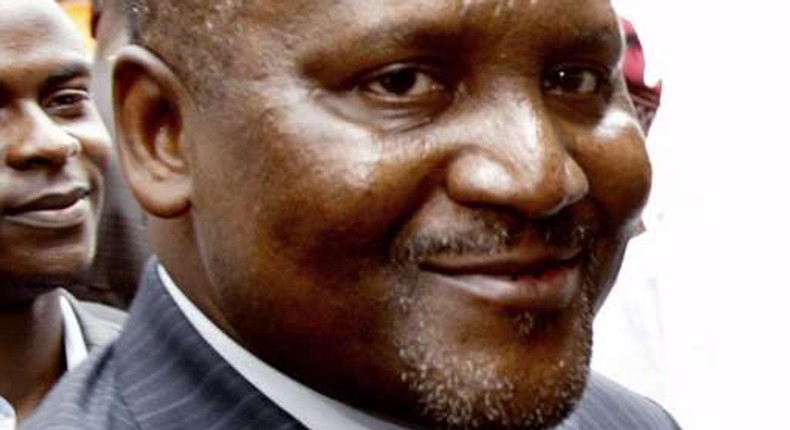 Africans richest man Aliko Dangote plans to shift focus from Cement business to oil and gas.
Mr. Dangote told Reuters the $12bn refinery will be ready at the beginning of 2019.
"It will be ready in the first quarter of 2019," Dangote told Reuters. "Mechanical completion will be end of 2018 but we will start producing in 2019."
Dangote also has plans for a gas pipeline through West Africa, Reuters adds.
Dangote plans to build cement plant in eight Africa countries: Cameroon, Ethiopia, Kenya, Mali, Niger, Nigeria, Senegal and Zambia by 2018.
Another plant will open in Congo Republic by September, he added.
This would double his current cement business.
JOIN OUR PULSE COMMUNITY!
Recommended articles
A/R: Police fraternity, Senior officers bid farewell to Police officer who died in fire with family
Here are ways to naturally enlarge the male organ
Court orders lady to pay $80,000 to man for dumping him after he paid her school fees
Kenya and Tanzania tear down 23 trade barriers hindering their commercial relationship
Uganda's State House allocates billions for brand new cars for the President and Vice President
Guest house boss shoots customer for complaining about malfunctioning TV
4 healthy questions to ask a new partner before having sex
Waiter almost ruined my date, he shouted 'pa pa paa' whilst another man took me out - Michy
East Africa continues to experience an impressive intra-trade growth trajectory