Angry Lord Kenya warns Ofori Amponsah
Secular-artiste-turned-evangelist, Lord Kenya has asked Ofori Amponsah to rescind his decision to return to highlife.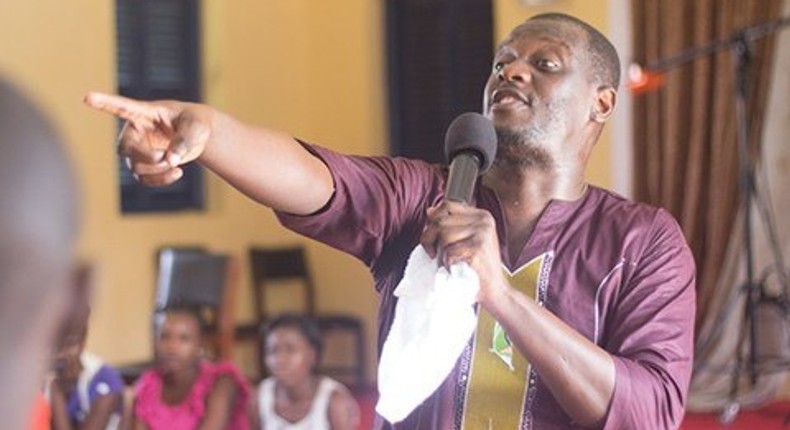 According to Lord Kenya, Ofori Amponsah's return to highlife years after he turned a pastor saddens his heart. He stated that the decision to comeback has exposed Ofori Amponsah to otherwise needless criticisms from a section of the public.
"You were doing well doing the will of God and all of a sudden, you take such a decision. Look at the way people are talking to you. You are a man of God and they shouldn't be talking to you like that," he said on Peace FM's Entertainment Review on Saturday.
In July 2012, Ofori Amponsah declared that he had received the calling of God to be a pastor.  He quit music to become a full-time Pastor at the Holy Grounds Sanctuary but announced earlier this year his decision to return to secular music.
He insisted that it would not conflict with his work as a Pastor and has subsequently released a love song titled, undefined.
But Lord Kenya who was 'arrested' by the Holy Spirit in 2010 on his way to get drugs at his usual 'wee' joint observed that Pastor Ofori Amponsah's decision is awkward.
"I came to Accra after I had given my life to Christ and Kwame [Ofori Amponsah], called me that he feels within him to work for God. We met and prayed that he stands firm in the Lord. If anyone backslides because of you today and something happens, God will ask for the soul from you," he said.
"After you had received Christ, you told me that you had recorded an album with one Voltage but because you've become a Christian, you are no longer interested. Why are you then going back and defending this? There is something wrong. If you ain't vigilant and follow the crowd, you will regret. Kwame, enough is enough," Lord Kenya added.
The former rapper advised Ofori Amponsah to pray to God to direct his path.
"It is time to go back and speak to God, for He can make you stand firm. Don't listen to those singing praises to you. It is not easy to be a Christian; the finisher of our fate is Jesus. Don't turn back. Don't let people think they have got you because you don't belong to them. People accepted Christ through you. If they go back to their ways because of you, you will be held accountable by God," Lord Kenya noted.
JOIN OUR PULSE COMMUNITY!
Recommended articles
9 most expensive African countries to rent a one bedroom apartment, based on property price to income ratio
Top 10 African countries with the highest corporate tax rates
Here are the top 10 cities in Africa where the most rich people live
Ras Nene: Dr. Likee 'cries' as Kumawood actor Osei Tutu reported dead
The metaverse could contribute $40 billion to sub-Saharan Africa's economy in its first decade, according to a new report
'Fame means nothing to this man' – Ghanaians react as Kendrick Lamar plays football at Jamestown
Sperm colour: Here's why your semen colour changes and what it means
Kumawood actor: Osei Tutu dies aged 51
How the Liberian war caused my parents' divorce, changed our lives – Gloria Sarfo recounts