"Iggy Azalea's butt is real and sexy" - singer confirms
The singer went on to discuss how she learned how she started driving and how she acquired her driving license before being put on the spotlight to choose who she would snug, marry and ignore.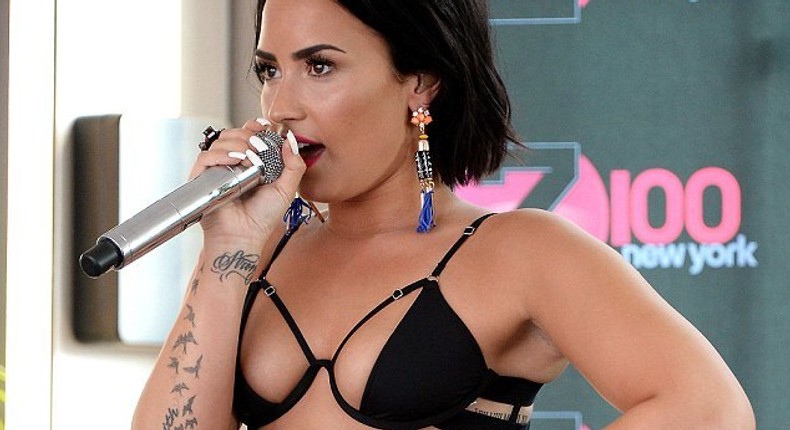 The pop star who is currently promoting her new album, 'Confident', appeared on BBC Radio 1's 'The School Run' segment, where stars give British children a ride home from school. The kids also have the chance to ask the stars anything.
"How much money are you worth?" was the first question asked. Demi unsurprisingly refused to answer and claimed she had no money with her in the bus. The next one up was, "Is Iggy Azalea's bum real?"
"Yes, it is real and sexy," Demi answered without hesitation. "Yes, she's real. Her butt's real and it's all good. She's awesome," the singer added.
"I'll probably snug Nicki Minaj, marry Nick Jonas and ignore Nick Mcgraw," singer revealed.
Watch the video below to complete Demi's car interview.
Recommended articles
Blackstar Line Festival is the biggest concert in Ghana's history - Chance The Rapper
Okraku-Mantey to contest Ayensuano seat on NPP's ticket
I didn't reply Amerado's diss song because he is nowhere near my level - Medikal [Video]
I'm not looking at big buttocks anymore, I need a woman with good attitude - Funny Face (VIDEO)
I don't see myself doing music with TeePhlow who's jealous of me - Medikal
Don't wear designer clothes if you are against LGBTQ - Sister Derby
Edem set to make big 'NDC' announcement, fans convinced he wants to be NDC MP
Robbery attack on my wife led us to discover she was pregnant - Akesse Brempong
'Time to speak, time for silence' - Davido announces return with 4th album