Movie featuring Prince David Osei, Roxana Zachos set for a November release
An action, inspirational, and psychological movie 'Nana Means King' has been set for a November release.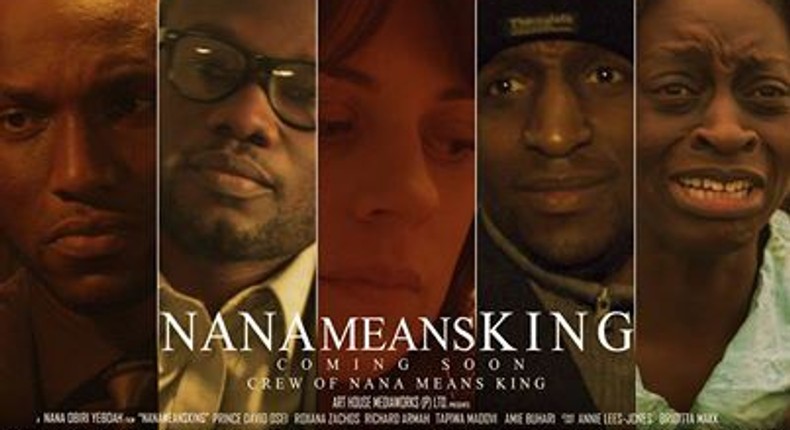 After a long wait the movie undefined which features top Ghanaian actor Prince David Osei,will make its debut this November.
Also starring Roxana Zachos, the movie tells the story ofa betrayed Ghanaian working illegally in the UK, who finds himself on a quest not only to survive but to re-envision a life beyond his own shattered dreams.
Plot."After losing everything to betrayal, Nana Kwame, a Ghanian illegal immigrant working in the UK, finds himself launched on a personal odyssey of self-discovery.
Stripped of nearly all material possession, a place to live, and even his dreams of glory, Kwame must now find his way through the unfamiliar terrain of the displaced and invisible.
It is in this hour of darkness that his life takes an unexpected turn. When he is most vulnerable, Kwame finds beauty and love growing in the concrete wasteland.
Though the mirror that is Shauna, he quickly realises that the past can be a prison we create for our own minds.
It is only by helping to free Shauna from her prison that Kwame is eventually freed from his own.
Recommended articles
10 Telenovelas that captured every Ghanaian growing up
Music producer, Kaywa loses mother
Lagos State Police probe death of Yul Edochie's son
10 funny videos of Ahoufe, Tupac's Ghanaian lookalike whose death is breaking the internet
Gospel musician Ryan Ofei sings open the heavens on limitless worship: Accra
Ahoufe confirmed dead; death of Ghanaian TikToker goes global over Tupac comparison
Assurance secured, Davido confirms marriage to Chioma
Yul Edochie loses first son with May, Kambili
I am proud of Nana Tornado, we are still friends, Mzbel proves haters wrong [WATCH]