Actor is joining 2nd season of 'Empire'
Director of the hit series 'Empire,' Lee Daniels, has confirmed that Tyrese would indeed be coming to 'get his girl back' on second season of show.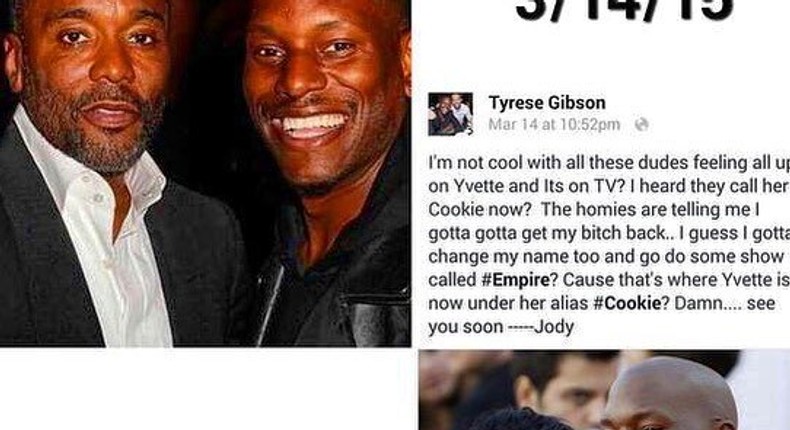 'Furious 7' actor, Tyrese Gibson is the latest addition to the star-studded cast of the record breaking 'Empire.'
Director took to his official Instagram page to confirm Gibson's addition, while also putting to rest rumours about him exiting show as director.
"Yes! Stop asking!!!  is coming on  And NO, I am not leaving my show! I just wrapped my 1st episode ... I got  to do!
It was so much fun directing our wonderful cast ... I miss and love them ALL... Sorta  sad cause I'm not with them now but I'll be back for the finale!! In the meantime we got some badass directors stepping in!!! " he wrote with the above photo.
Tyrese also took to his Instagram page to share the news with the below photo.
"Fuuuuuccckkkkk that I'm coming to get my girl back....... I wasn't gonna say shit - Lee Daniels just made the announcement  SEASON 2 Jody back on his bullshit - Taraji I mean Yvette I mean  I'm sorry I wasn't there t." he wrote.
undefinedalso include Chris Rock, Alicia Keys, Marisa Tomei and Lenny Kravitz.
JOIN OUR PULSE COMMUNITY!
Recommended articles
'I will not marry again in my life' - Xandy Kamel speaks on first failed marriage (WATCH)
'My body has nothing to do with you, what matters is the music' - Sefa to critics (WATCH)
'A bachelor above 35 years is bisexual' - Princess Shyngle
Gyakie is the most streamed female Ghanaian artiste on Spotify
Mona Gucci reacts to court ordering her to pay Yvonne Nelson Ghc500,000
Quiz: Test your knowledge on Ghana Grammy history
Popular 'Home Alone' house listed for rent this December
'Pay Yvonne Nelson GH500,000' - Court orders Mona Gucci for defaming the actress
'The church also finds you boring' - DKB chides Sister Derby