Six people attacked and wounded by aggressive bee swarm
Six people were hospitalized after a swarm of bees attacked residents at an Arizona golf course community, USA.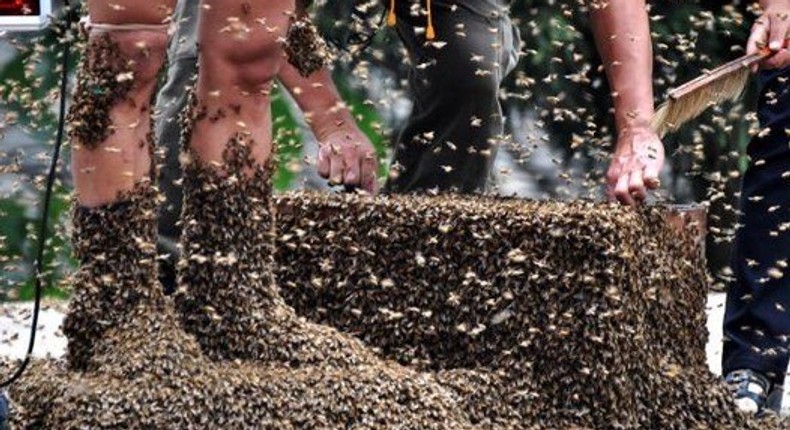 Three adults and three children were attacked, including one adult who suffered nearly 300 bee stings.
The bees hit the Rancho El Dorado subdivision about 5pm and attacked people in a two-block-long area, the department said in a news release. People ran and screamed for help.
Two firefighters were also stung as they attempted to find the source of the hive.
It took the fire crews about two hours to find the hive in an opened water valve box at one of the homes. The bees were sprayed with foam, and the hive was contained and killed.
It is not the first time that the bees have attacked Arizona in recent months, with the state being hit over the summer by an aggressive strain of Africanised honeybee – which are known for being prevalent in warmer states and becoming particularly aggressive if their hives are disrupted.
JOIN OUR PULSE COMMUNITY!
Recommended articles
Woman kills 5 relatives for $95,000 insurance cash
'Go and sin no more' – Court cautions Evangelist for fingering, fondling woman
Police on manhunt for man who raped 90-year-old mother
12-year-old school dropout turns preacher to get money to feed sick father & grandmother
Man storms female MP's bedroom with machete: "He told me to face the wall & say my last prayers"
"Whoever said CS surgery was very painful lied" - Vera Sidika says after giving birth
Ghanaian man says he's lost love for "very beautiful" wife of 7 years who loves him so much
Boy, 13 with disability who crawls over 4 hours to school is among the top 4 in class (video)
My husband's side chick wants him to send her abroad or she'll tell me about her pregnancy - Woman