28-year old man bled to death after chopping off his tongue in sacrifice to gods [Graphic]
A 28-year old dies after chopping off his own tongue as a sacrifice to a Hindu goddess.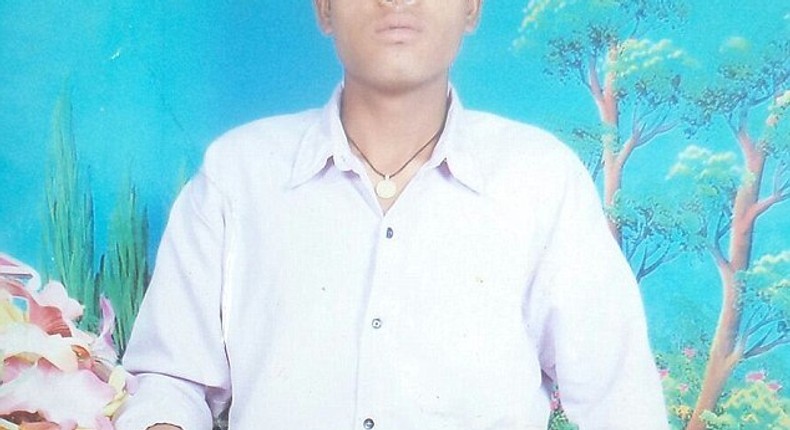 A 28-year old man dies after chopping off his own tongue as a sacrifice to a Hindu goddess.
Deepak Kol, 28, collapsed minutes after using a knife to chop off the vital organ during the holy festival of Navratri.
But instead of taking him to the hospital, Deepak's desperate family and festival worshippers tried to resurrect him by singing hymns and praying.
We kept praying until 4am in the morning, hoping that Devi [Hindu goddess] would instil life in my son's body,' his father Sukhdeo, a farmer, told MailOnline.
'When that did not happen, I knew that the Goddess has given Deepak a place in her lotus feet.'
Without emotion, the father added: 'He has just left his mortal body. If Devi seeks sacrifice of another son, I would be more than willing to oblige.'
Deepak, from Kharhata village, northern India, had been fasting for days before he removed his tongue in tribute to Durga, the goddess of good triumphing over evil.
He fell unconscious in the village temple - but other worshippers, who had fallen into a prayer-induced trance failed to notice anything was wrong for five hours.
When they realised he was unconscious, they continued to pray and chant to resurrect him.
The head of the village told the authorities of his death the next morning - but the family refused authorities to conduct postmortem, police spokesman Riaz Sheikh told MailOnline.
This gruesome death is the latest in a disturbing number of cases in India where religious followers have died following a sacrificial offering of their tongues and private parts to the gods.
JOIN OUR PULSE COMMUNITY!
Recommended articles
'Go and sin no more' – Court cautions Evangelist for fingering, fondling woman
Police on manhunt for man who raped 90-year-old mother
12-year-old school dropout turns preacher to get money to feed sick father & grandmother
Man storms female MP's bedroom with machete: "He told me to face the wall & say my last prayers"
"Whoever said CS surgery was very painful lied" - Vera Sidika says after giving birth
Ghanaian man says he's lost love for "very beautiful" wife of 7 years who loves him so much
Boy, 13 with disability who crawls over 4 hours to school is among the top 4 in class (video)
My husband's side chick wants him to send her abroad or she'll tell me about her pregnancy - Woman
12-year-old girl single-handedly carries pregnant mom in labour across lake at night to hospital