All the times Benedicta Gafah imitated Nana Akua Addo's style on the red carpet
Guess what? Benedicta Gafah takes her style inspiration from fashion icon, Nana Akua Addo.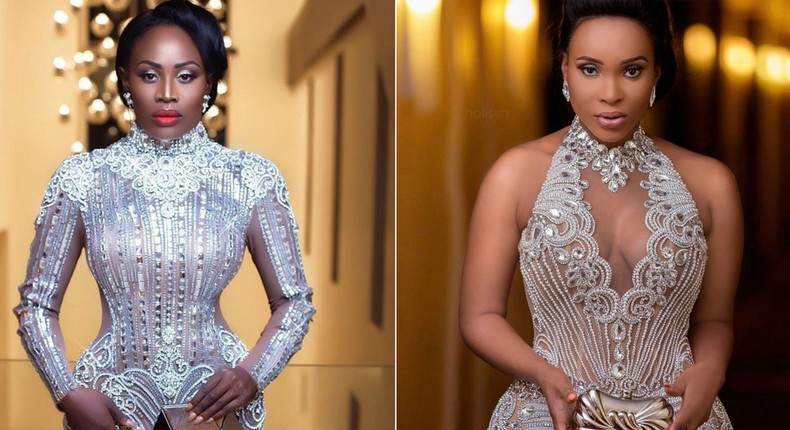 The Ghanaian fashion industry evolved and celebrities are always spending more time and money on their looks.
There is a fierce competition especially between the female celebrities to win best-dressed celebrities or earn the enviable title, Slay Queen.
After carefully comparing some photos on social media, Ghanaian actress, Benedicta Gafah, is presumably imitating her colleague, Nana Akua Addo, Ghana's celebrated fashion icon.
This came to notice after the fashion duo stunning appearances on the red carpet.
Could it be a possible style inspiration or a move to reach the milestone Nana Akua has set for herself in the fashion industry?
Well, whatever the reason may be; it is obvious Nana Akua Addo can only be imitated but never duplicated.
It is never wrong to copy the style of another, but why take the risk of a possible comparison especially when whoever wore it first stunned millions and also in your circles. That is why nothing beats originality.
The glitz style awards red carpet got better last year, 2016 the moment the slay empress, Nana Akua shined her lights on whatever was worse with her beautiful diamond encrusted stones like never seen before.
She changed the scope of the red carpet in Ghana that very moment and also broke the Internet. She literally brought MET GALA, CANNES FILM Festival, and the Oscar ambiance to the awards.
Benedicta Gafah drove that way at the Ghana Movie Awards this year but tried to play safe by twisting the style a bit and turning hers into a jumpsuit.
Either way, the first name that came to mind when we saw Benedicta Gafah's dress on the red carpet was Nana Akua Addo look alike. Benedicta's costume was equally in stones that seemed like white pearls probably because she was not willing to pay much for the diamond crested  Nana Akua chose or it was out of her league.
Nana Akua  Addo did Ghana proud on the red carpet at the 2017 AMVCA awards in a dazzling gold garment and lived the fantasy of the Disney princess, Cinderella. At that point, we knew she made another iconic appearance.
Benedicta Gafah, however, tried to steal our attention with her gold ball-gown at the recently held 2017 Golden Movie Awards.  After careful observation of Gafah's impressive look, we realized that she was challenging Nana Addo's magnificent style to the  2017 AMVCA awards.
Unfortunately, there was a yard stick we could measure her apparel with since she seemingly wants to fit in Nana Akua's shoes. Again, the style was equally the same but the fabric was distinct. Could it also be that she loved it just that way or Nana Akua's fabric was not in her reach?
Hey, am just thinking…lol
Nana Akua made another big fashion statement as a pace setter at the recently ended BET awards in what looked like chandeliers.
Has Benedicta Gafah already handed over her silver chiffon fabric to her seamstress for a duplicate look ?? Well, let's anticipate for Gafah's next Internet breaking red carpet look.
JOIN OUR PULSE COMMUNITY!
Recommended articles
4 common mistakes that lead to boredom in a relationship
Jackie Appiah sets the fashion world ablaze with elegant birthday photos
Diana Hamilton radiates beauty and style in stunning 43rd birthday photos
How does sex change after cheating?
5 lesser-known erogenous zones for men
Skincare secrets: How to clean your makeup properly
Best celebrity pictures on Instagram this week
Here's what to do when a guy won't take no for an answer
DIY Recipes: How to make Peanut butter cookies