DIY Recipes: How to make Beef sauce
This is a very quick and simple lunch or dinner idea, that you can pair with rice or whatever it is that suits you.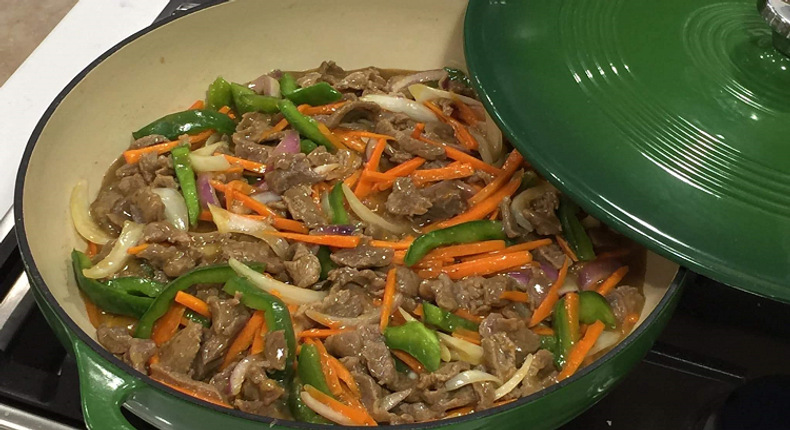 To enhance the taste of your sauce, you should consider marinating your beef for as long as possible.
1 tablespoon grated ginger
1/4 teaspoon grains of paradise AKA wessa or substitute for black pepper
2 tablespoons vegetable oil
2 large bell pepper cut into desired shapes/sizes
1 medium-size onion cut into desired shapes/sizes
1 tablespoon ordinary soy sauce optional
½ - 1 tablespoon of water
Cut beef into strips, making sure to cut along the grain. Grind garlic, ginger and grains of paradise together, and marinate beef strips in the mixture with salt for about 15-30 minutes or more.
Heat oil in a wok, add the beef strips and cook till it's all cooked through.
Add the soy sauce, bell pepper and onions and stir fry for about a minute or two.
JOIN OUR PULSE COMMUNITY!
Recommended articles
The best celebrity pictures on Instagram this week
Celibacy: How to have the best sex after a long break
Osu Oxford Street to host Wogb3j3k3 carnival, exhibition
Hot bath and male fertile: Here's how hot temperatures kill sperm health
Children who sleep less than 9 hours may be less intelligent - Study finds
Energy drinks: The side effects of taking these drinks
Meet the African tribe that offers s*x to guests
Do you have a spider bite? These 7 photos can help you tell
Blow job etiquettes: Here's how to be in your best behaviour for heads