How to make Nigerian samosa
Although samosa is an old Indian recipe but Nigerians can't seem to get over this small chop snack. Here's how you can make the Nigerian style samosa.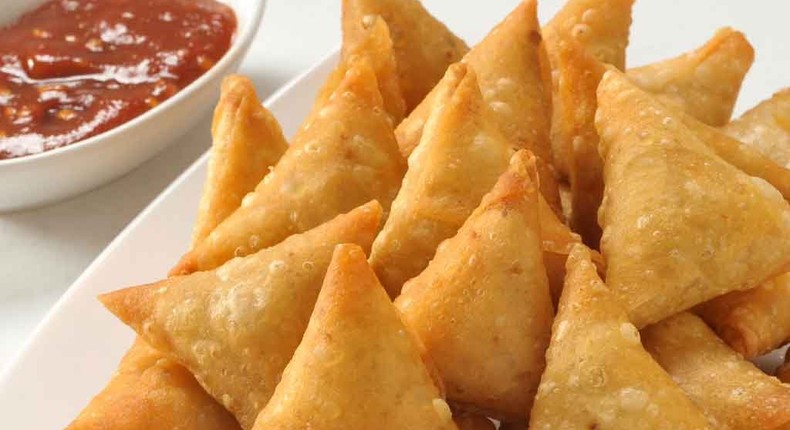 I'm sure you'll agree with me that Nigerian small chops package isn't complete without samosa.
Although Samosa is an Indian recipe, Nigerians can't seem to get it away from their eyes nor their mouth when it comes to small chops.
I really can't say if it is the filling or the crunchiness that makes this chop loved by a good number of people. Unfortunately, most small chops vendors have a way of making us crave for more of this snack by putting just a limited number of samosa in our small chops package'
Anyway, here's saying bye bye to their shakara as we shall be making this snack more often on our own.
Ingredients
1. 300g all-purpose flour
3. 2 Tbsp. Vegetable oil for mixing
1. 2 large Irish potatoes
2. 1 onion, crushed (optional)
3. ½ teaspoon ginger powder
4. 1 tbsp crushed garlic,
5. ½ teaspoon red chilli powder
6. 80g Minced beef (Optional)
9. Vegetable oil for deep frying the samosas
Preparation
1. Peel the potatoes. Wash it and put in a pot. Add salt and boil for about 5 minutes or till it is soft.
2. Mash the soft potatoes while it is still hot. Add the cooked minced beef (if you're using meat) and mix well.
3. Add the garlic, ginger, onion, red chilli, seasoning cubes and salt to taste. Stir well and set it aside.
You may choose to stir fry the ingredient.
1. In a medium sized bowl, mix the flour, salt and vegetable oil together. Add water intermittently and knead well
2. Cover with aluminium foil or a moist cloth and set it aside for about 15 minutes.
3. Divide the dough into small balls and roll it flat on a flat surface using a rolling pin and divide into two.
4. Take one of the portions, make a cone out of it and seal the edges properly leaving one part open to add the fillings
5. Add the fillings and seal properly by brushing the edges with eggs.
6. Deep fry the samosa or you can bake it for a healthier option.
JOIN OUR PULSE COMMUNITY!
Recommended articles
Diana Hamilton radiates beauty and style in stunning 43rd birthday photos
How does sex change after cheating?
5 lesser-known erogenous zones for men
Skincare secrets: How to clean your makeup properly
Best celebrity pictures on Instagram this week
Here's what to do when a guy won't take no for an answer
DIY Recipes: How to make Peanut butter cookies
All the major events happening in Accra this December
Seduction: Women, easy and effective tips on how to do it right and make your man wanting more